How to store camping gear: tips and tricks to keep your kit in tip-top condition
Our guide on how to store camping gear means your equipment will be bright and ready rather than damp and miserable when it comes out of winter hibernation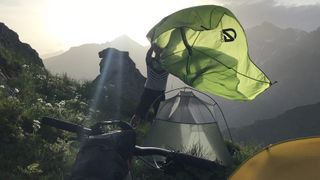 (Image credit: Nemo)
If you know how to store camping gear correctly, you'll know the benefit of taking a little time to get everything shipshape when returning from a camping trip. While it may not be the most thrilling task you undertake, there is something undoubtedly satisfying about getting your kit primed for the next adventure.
However, even seasoned campers make mistakes when it comes to storing their gear. Some know the storage needs of each item but don't have an efficient system for storage as a whole, meaning that when their next camping trip comes around, they can't find everything they need. Others sort their kit into organised groups and know exactly where to find everything, but then make errors when it comes to storing individual pieces of gear, thus reducing their lifespan.
Everything from your best camping tent to your sleeping bags, sleeping pads, camping stove and fuel require consideration when storing away until the next adventure. Luckily for you, our straightforward guide breaks down exactly what to do with your camping kit.
How to store camping gear: give it a clean first
First things first, just as you wouldn't throw muddy hiking pants back into your closet, you shouldn't store dirty camping gear. Unpleasant surprises may await you next time you fetch it if you don't give it all a good clean, especially if you're putting everything in for winter hibernation.
Our guides on how to clean a tent and how to clean a hammock should help with some of this. However, always check the label on each of your items to ensure you are approaching the task correctly, otherwise your efforts might have the opposite effect, rendering your kit useless.
Finally, once all is spick and span, make sure everything is dry before it comes to tidying it away.
How to organise your gear
When thinking about how to store camping gear, it's worth organising your kit into groups. For example, all your cooking utensils, camping mugs and pots and pans can go in one group, all your solar chargers, headlamps and other tech into another, while you'll want to keep your jackets, insulated pants and other camp clothing together too.
It may be that you want to store these groups of items separately, especially if you're going to need some before others. You will probably want items like your best down jacket to hand through the winter anyway, so it makes sense to store clothing in your closet rather than the basement. However, don't create too many groups of kit, as you'll struggle to remember where you put everything when the next camping season comes around.
Store in a cool dry place
Once your arsenal of camping gear is clean and dry, it's time to store it away. The rule of thumb here is to store most camping gear in a cool, dry place, away from direct sunlight.
In effect, most rooms in the house should be suitable. Where you store it may depend on the next time you intend to use it all. If you've got another trip coming up in a couple of weeks, it doesn't make sense to hide it all away in a basement or loft. Whereas if your gear is going into hibernation for the winter, somewhere more out of sight than your bedroom may be preferable.
How to store camping gear: the exceptions
There are exceptions to the rule, and one of them is camping stove fuel, which shouldn't be stored anywhere that gets too cold. Ideally it should be stored at a normal room temperature but be careful not place fuel where it could come into contact with direct sunlight, or near electrical outlets.
Hydration equipment, like bladders and water pouches should be sterilized with warm, soapy water and then left to drain completely. To avoid any problems with mold growth, we'd recommend storing them in a fridge over winter.
How to store tents
When it comes to your tent, liberate it from its stuff sack. Keeping it tightly folded up puts needless stress on its fabrics. Instead, roll it up loosely and store inside a large fabric bag or a pillowcase. Another great option is to hang it from a couple of pegs – read more in our how to store a tent guide.
How to store sleeping bags and sleeping pads
The principles of sleeping bag and sleeping pad storage are similar to that of tents. Keeping either scrunched up in a stuff sack won't be great for them over the long term – as you can read in our how to store a sleeping bag explainer.
Down and synthetic materials prefer to be hung vertically rather than crammed into a sack. This way, your sleeping bags will maintain their fluffy loft – and therefore their ability to cope with lower temperatures – much longer. If you can't hang them, having you sleeping bag laid out somewhere, under a bed for example, if still better than having them stuffed tight in a sack or box. Similarly, open and closed-cell foam pads will last much longer if they are stored uncompressed.
How to store camping chairs
The best camping chairs are designed to be portable, so usually fold down fairly small and lean tidily against the wall of your basement, loft, garage, outhouse, etc. Wherever you choose to store them, it's worth covering them with some tarp, just so that they don't collect a load of dust.
How to store camping gear: general storage
Clear, stackable storage bins are great for groups of items and you can order them based on when you think you'll next need them. If you have space for some shelves, even better, as it makes accessing whatever box is on the bottom much easier than having to lift all the others off first.
Another great solution that works really well in a garage, basement or loft is a pegboard, which can be used to hang items like sleeping bags, camping knives and other adventure items like ice axes and climbing rope.
All the latest inspiration, tips and guides to help you plan your next Advnture!
Alex is a freelance adventure writer and mountain leader with an insatiable passion for the mountains. A Cumbrian born and bred, his native English Lake District has a special place in his heart, though he is at least equally happy in North Wales, the Scottish Highlands or the European Alps. Through his hiking, mountaineering, climbing and trail running adventures, Alex aims to inspire others to get outdoors. He is currently President of the London Mountaineering Club, training to become a winter mountain leader, looking to finally finish bagging all the Wainwright fells of the Lake District and hoping to scale more Alpine 4000ers when circumstances allow. Find out more at www.alexfoxfield.com