World record eel hunters land 21 lb 10 oz giant
Two World record eel hunters have come so close to breaking their target, after an epic trip.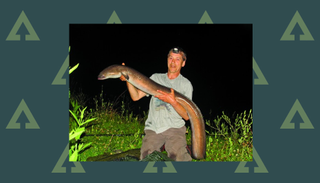 (Image credit: Angler's Mail)
Welcome to Advnture, the new home of AnglersMail.co.uk
Brits Barry McConnell and Peter Drabble wanted to beat the 25 lb 12 oz world record eel category for the speckled longfin eel (Anguilla reinhardtii) . They set off to Australia for an epic 40-day trip… but fell just short.
Barry matted nine doubles with a best of 21 lb 10 oz plus five between 19 lb 2 oz and 16 lb 2 oz while Peter had four over 10 lb with a best of 17 lb 14 oz using baits of ox and lamb hearts, chicken, sausage and salami.
Barry explained: "We arrived at the Snowy mountains reservoir only to find there had been lots of water released through the dam gates over the last seven years and the landlocked eels had been able to get into the river and leave the reservoir.
"Stories I had read massive eels busting up the anglers line were all out of date. No one had hooked up an eel for several years. We blanked and realised we were there too late, the eels had gone. First week of the trip – no eels.
"For a back-up plan we headed for some dams we know in New South Wales. Lake St. Clair and Lake Glenbawn and Lake Liddell, and then spent the last two weeks on rivers in Victoria – the rivers Cann, Tambo and Mitchel.
"This was a man's trip without bedchair or bivvy, instead it was small backpackers tent and self-inflating camp mat; this has become the standard kit for wilderness angling adventures and it does toughen you up."
All the latest inspiration, tips and guides to help you plan your next Advnture!