How much does hiking cost, really?
Is hiking affordable, or is it the most expensive adventure sport on the planet? We tally up the costs, from day hiking to scaling the world's highest peaks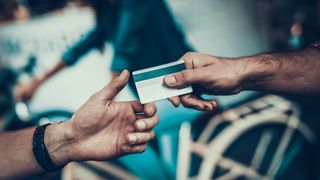 (Image credit: vadimguzhva)
How much does hiking cost, really? You always hear (and we always say), that other than buying a pair of hiking boots, it's a virtually no-cost affair, what with the lack of expertise, certifications and training required. And sure, walking in the woods isn't likely to set you back the way other adventure sports such as hot air balloon racing ($30k), underwater cave scuba diving ($9k) or wingsuit flying ($5k) might, according to The Richest. But with the cost of pretty much everything else rising these days, you might well want to make sure the claims of hiking's affordability are true before you click "Buy Now" on that new hiking backpack you've been eyeing up. So, we decided to crunch the numbers for you, and look at the bottom line when it comes to hiking.
How much does hiking cost?
To estimate how much hiking is likely to cost you, it really depends on what you mean by hiking. After all, if your goal is to climb Mount Everest, it's well-known that the cost of such an expedition is as steep as the slopes you'll be climbing. We took a casual look on Google and found the very first search to join an Everest expedition came with a $73,000 price tag for 2023, which is more than the majority of Americans make in a year, while we've heard of people paying nearly twice that. This type of expedition is generally considered to be the most expensive adventure you can have. So if your ambitions are lofty, you'd better get a second job.
But let's be honest, most of us don't actually want to stand in a long queue for the chance at 15 minutes of trying to breathe and dealing with altitude sickness on the world's highest peak. Say you want to strip it all down, get your feet in the dirt and go for a long walk instead. How much does a thru-hike set you back? When we were researching our article on the Continental Divide Trail, a 3,000-mile trail that stretches across the Rockies from Mexico to Canada, we discovered that most thru-hikers report spending between $5,000 and $8,000 to complete the hike, and it's safe to say that hiking the Appalachian Trail or the Pacific Crest Trail come with a similar investment. A drop in the bucket compared to Everest, certainly, and per month, probably less than it costs you to live in civilization. However, if you have rent or a mortgage to cover while you're gone, and you're taking six months off work, you're going to need to spend some serious time with your calculator to make it all add up.
And of course, if you're jetting off to exotic hiking locations like New Zealand and Hawaii to hit the trail, hiking is likely to rack up a bill amounting to thousands of dollars. So yes, hiking can be really expensive, if you want to go big. But if you just want to go day hiking, or even on shorter backpacking trips, say within a hundred miles of where you live, here's an idea of what you'll need to fork over:
1. Hiking gear
Starting with equipment, largely what you'll need for hiking is clothing to protect you from the weather, and something to carry it in. Below, we've listed the main items you need for a day hike, bearing in mind that you might prefer not to hike with trekking poles or need a lot of wet weather protection where you live. You also might already own quite a bit of this gear that you can easily use for hiking, meaning that you may not have to buy a water bottle or a first aid kit. For each item on the list, we've identified the most affordable and the priciest options that we've personally tested, but of course these are recommended retail prices, and you may be able to find items cheaper on sale, or even used.
Finally, remember that if you take good care of your hiking gear, a lot of these purchases can be one-time investments that you use for the rest of your life.
Total bill: $596 - $2,185
As you can see, shop the sales and you can probably get kitted out for a few hundred dollars, but go high end and you could end up with a big bill (but some seriously good gear to show for it). Obviously, if you want to go backpacking you'll have to add in the cost of camping equipment, such as a one-person tent, sleeping bag, sleeping pad and camping stove, but the above list should be enough to get you started on the trail.
2. Transportation
Next up, unless you live at the foot of a mountain and only ever plan to hike that mountain, there's bound to be some cost associated with getting to the trailhead. Driving there means filling up your tank with petrol, which you can reduce by ride sharing. Taking public transport means you have to buy a ticket, and such options aren't always widely available in places like the US, or especially affordable either.
3. Food
There's a small cost incurred when it comes to hiking meals, which involve either making a packed lunch or carrying trail mix and other hiking snacks. However, even if you don't go hiking, you still have to eat and you're likely to be able to rustle something portable up using food that you've already paid for, so this one doesn't amount to much at all.
4. Permits
Finally, certain trails require you to pay for a permit for access. If you're hiking in one of the US National Parks, you'll usually pay an entrance fee at the gate (typically $35 per car per week) while some backcountry areas require small fees for your wilderness permit. Of course, you can avoid this cost altogether by hiking in state parks, National Forests and other free wilderness areas.
So, is hiking affordable?
As you can see, hiking isn't free, but after the initial down payment on gear, your typical expenses for each day hike don't have to stretch much beyond the getting there and the price of a sandwich. If you're keen to start hiking more and seeking ways to keep the costs down, check out our tips for hiking on a budget.
All the latest inspiration, tips and guides to help you plan your next Advnture!
Julia Clarke is a staff writer for Advnture.com and the author of the book Restorative Yoga for Beginners. She loves to explore mountains on foot, bike, skis and belay and then recover on the the yoga mat. Julia graduated with a degree in journalism in 2004 and spent eight years working as a radio presenter in Kansas City, Vermont, Boston and New York City before discovering the joys of the Rocky Mountains. She then detoured west to Colorado and enjoyed 11 years teaching yoga in Vail before returning to her hometown of Glasgow, Scotland in 2020 to focus on family and writing.