How to plan a sunset hike
There are few things more magical than being on the trail at twilight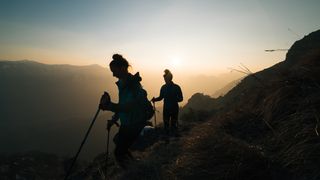 (Image credit: Milo Zanecchia/ Ascent Xmedia)
For many, the arrival of fall means the hiking boots get hung up for the season and the gym membership gets reactivated, but for me, it means sunset hikes. Heading out late when the days are already shrinking might seem like an odd choice, but to me it makes perfect sense. Sunset is my favorite time of day, but in the summer it arrives far too late here in Scotland to reasonably want to still be hiking, and when I lived in the Rockies I needed to hike in the morning if I wanted to avoid afternoon thunderstorms.
Come autumn, however, the weather has usually settled a little, the sunsets are more vivid and the sun setting earlier means I can hit the trail in the late afternoon, watch nature put on a spectacular show and still be home in time for a late, hot supper. Better yet, I can enjoy one of my trademark one-night backpacking trips and set off in the afternoon for a beautiful sleepover in nature.
If you haven't tried a sunset hike, I highly recommend it, but don't just grab your backpack and head off like you would any other hike. Read on for what to expect and how to prepare for a fun and safe sunset hike.
Why go on a sunset hike?
Hiking has definitely been sold as a morning activity and for good reason – early in the day you can beat the heat, lightning strikes and crowds while you've got the most amount of daylight ahead of you at dawn. What the morning can't do, however, is deliver that jaw dropping natural phenomenon where the low sun streaks pink, gold and crimson across the sky, alpenglow catches the eastern peaks and the birds sing their final chorus of the day.
Twilight is an enchanting hour to be out on the trail, beautiful and quiet, and if you're just not a morning person it might be the ideal time to get the benefits of nature. Plus, if you're out once night falls you can do some stargazing while you're at it.
Sunset hike safety
Needless to say, there are a few safety concerns that are elevated when you're hiking at sunset. First, you'll probably be hiking out as the light fades or even in the dark, which can increase your chances of tripping over unseen obstacles and getting hurt, or missing turns on the trail and getting lost. That means you'll want to bring a light source, a map and compass and keep your attention on what you're doing to stay upright and on the trail. Using trekking poles for your descent is advisable, to keep you from falling and to give you a means to test the ground when you can't see where you're going.
Second, wildlife is more active at dusk, and in some areas this could mean an increased possibility of encountering a bear or a mountain lion, which might not be your idea of a good time. Practice wildlife safety appropriate to where you'll be hiking and understand what types of animals you might encounter and how to behave around them. If you are choosing to do a sunset hike in mountain lion country, go with friends and make some noise so they hear your coming and vacate the area. If you're hiking in an area where the wildlife consists mostly of gentle deer and twittering birds, bring your binoculars and get a closeup view without disturbing them.
How to plan a sunset hike
Planning a sunset hike takes a little more effort than your regular day hike, but it's worth it to make sure you're in the just the right place at just the right time with everything you need.
1. Find out when sunset is
The first thing you need to know is when sunset is, since of course that changes day by day. After the summer solstice (in June in the northern hemisphere), the evenings come in a few minutes earlier each day, so there's no point planning a sunset hike in a month's time based on what time sunset is today, as it will be over an hour earlier.
To find out what time sunset is, you can simply do an internet search for sunset in the location where you'll be hiking on the date you plan to go. Once you've got that figured out, you'll want to think about the timing of your hike. Do you want to be on the summit of a mountain or at a lake at sunset? If so, you'll need to know how long it will take you to get there so you don't miss it. If you just want to be out on a lovely coastal path during the sunset but close to the trailhead as dusk approaches, make sure you time things so you're heading back with enough time to spare.
2. Pick a trail
Any hiking trail is a good place to be at dusk in terms of soft light, but some spots will definitely showcase the setting sun better than others. Obviously a summit will give you unobstructed views while there's nothing to beat the sun sinking into the ocean if you're on a western coast, but if you find yourself nestled in the bowl of high peaks there might not be much to write home about besides darkening skies.
Pick a trail you know well already or do some research for the best spots for sunset hikes (Hopi Point in Grand Canyon National Park, Sentinel Dome in Yosemite and Bear Lake in Rocky Mountain National Park are a few famous spots while any desert should deliver) and get the most out of your adventure with a trail that's easy to follow and has some open space to the west so you can enjoy those crimson hues.
3. Phone a friend
There's nothing to say that you can't go on a sunset hike alone, but since the chances are that you'll be hiking out after dark, this is a good time to hike with a partner or in a group. Make sure you pick a hike that's suitable for both of you, and tell a third party where you're going.
4. Pack like a pro
The two big differences between a sunset hike and a morning hike are that it will be colder and darker. Therefore, in addition to your regular hiking essentials, you need to be sure to pack the following:
5. Check the weather
This is standard hiking procedure at any time of day, but make sure that you check the mountain weather forecast using a reliable weather app before you leave the house. Hiking in the afternoon can mean more unstable weather conditions and you'll want to be sure to miss any afternoon thunderstorms that can frequent high lying areas in the summer months. If you set off later in the day, things have usually stabilized, but know that things can be more unpredictable in the afternoon hours.
6. Fuel up
On morning hikes, I often just grab a quick breakfast, bring a few granola bars or some trail mix or jerky to tide me over then enjoy a good lunch afterwards. For an evening hike, however, it's a good idea to eat a big lunch beforehand so you're well fuelled up since dinner will be late.
All the latest inspiration, tips and guides to help you plan your next Advnture!
Julia Clarke is a staff writer for Advnture.com and the author of the book Restorative Yoga for Beginners. She loves to explore mountains on foot, bike, skis and belay and then recover on the the yoga mat. Julia graduated with a degree in journalism in 2004 and spent eight years working as a radio presenter in Kansas City, Vermont, Boston and New York City before discovering the joys of the Rocky Mountains. She then detoured west to Colorado and enjoyed 11 years teaching yoga in Vail before returning to her hometown of Glasgow, Scotland in 2020 to focus on family and writing.