World record pike 'shorter' than this catch
News of a new World record pike has brought a longer specimen to the fore.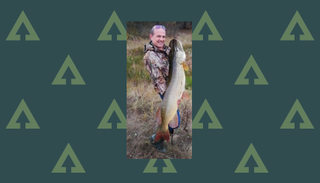 (Image credit: Angler's Mail)
Welcome to Advnture, the new home of AnglersMail.co.uk
The giant that we can show you here – also possibly the world pike record – was caught in Bulgaria almost exactly a year ago. It weighed a whopping 55 lb 12 oz.
It stayed firmly 'under the radar', despite being above the previous IGFA world pike record of 55 lb 1 oz, caught way back in 1986 at the Lake of Grefeern, in Germany, by Lothar Louis.
The Bulgarian fish was a whopping 140 cm long – a full 7 cm more than the 58 lb 14 oz Czech giant that we revealed last week, to Lukaz Matejka.
World record pike - possibly!
Captor of the Bulgarian fish Petar Filipov explained what could, briefly, have been the world pike record.
He said: "I am a lure fisherman, and only go spinning for pike these days, often using home-made lures.
"I have been fishing since I was four, and fish whenever I can, and have caught plenty of pike, but only ever before up to 23 lb, so this fish more than doubled that.
"The water is an old, small reservoir that used to have ample stocks of 'bait fish', but for some reason most seem to have disappeared, and I wondered whether predation by large pike was a possible factor.
"Once before I had a specimen of 30-40 lb snatch a smaller pike I was reeling in then snap the line above the trace."
Petar continued: "After struggling to catch, I decided to fish only big lures and completely different spots, like for example deep holes that I hadn't fished before… and it worked.
"As soon as I hooked her the water erupted. The beginning of the fight was brutal, but it didn't take much time.
"She ran for ten metres three times, and after ten minutes she was mine. I was surprised that she didn't jump or shake her head at all.
"She was massive, and I was thinking how to land it without hurting her, but fortunately she was really calm when I took her out of the water.
"I am not aware of any other pike anywhere near this size being caught in my country," Petar concluded.
More predators above UK best
Regardless of what really is the world pike record, a number of pike above the British record of 46 lb 13 oz have come from European waters.
That official British record was caught at Llandegfedd Reservoir, in South Wales, by Roy Lewis back in 1992.
The Top 50 Pike List, run by the Pike Anglers' Club, is topped by a 47 lb 11 oz monster from Scotland's Loch Lomond, caught by Tommy Morgan in 1945.
Euro giants include a 52 lb 9 oz specimen caught be Dutchman Jelle De Jong in Holland in December 2014.
The largest river-caught specimen, at 47 lb 4 oz, was landed by Ake Nillson from Sweden's River Lodde in January 1989.
The American pike record of 46 lb 2 oz has stood since 1940, and was caught by Peter Dubuc from New York's Sacandaga Lake.
The biggest authenticated 'esox' of all time came from a gravel pit in Darmstadt, Germany. It scaled 67 lb 1 oz, but this was net-caught.
All the latest inspiration, tips and guides to help you plan your next Advnture!
Running from 1964 until 2020, Angler's Mail was the UK's leading weekly magazine devoted to coarse fishing, telling readers everything they needed to know about which fish to catch, where to catch them, and what kit they needed to do it. Now, loads of the magazine's expert advice can be found on Advnture.com, as a helpful resource for angling newcomers and experts alike.