What is 4-way stretch fabric in outdoor gear?
What is 4-way stretch fabric, and why and when does it enhance your outdoor gear?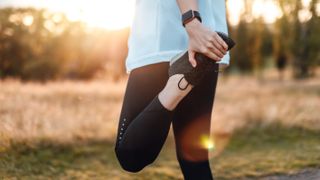 (Image credit: Oscar Wong)
When you're shopping for a new pair of running leggings or a hiking top these days, there's a good chance that you'll notice many styles on offer that boast "4-way stretch." Naturally, in these types of garments you want some malleability so that you can pull them on easily and hit the trail in comfort, without discovering your movements are restricted when it's time to clamber over a stile or do some scrambling, and 4-way stretch certainly sounds technical – but what is it exactly? And when do you want it in your outdoor gear? In this article, we look at this common feature in outdoor clothing and explain why and when it's a good thing.
What is 4-way stretch fabric?
The term 4-way stretch refers to a specific construction of a fabric. To make a fabric such as wool or polyester more stretchy, the fibers are interlaced with elastane, a pliable synthetic fabric that's also known by the brand names Lycra and Spandex. The interlacing process lends the fabric some of its stretchiness, while the presence of elastane provides the rest.
When this process only interlaces elastane fibers in a horizontal pattern, it is known as 2-way stretch, but when the elastane fibers are interlaced both horizontally and vertically, it creates a 4-way stretch fabric. Just as an example, let's say the band of your favorite sports bra only has 2-way stretch. That would mean that you could hold the band in two hands by the part that sits just below your armpits and pull it wider, which is handy for when you want to pull it on over your head. But if you held the top and bottom of the band, you wouldn't be able to stretch it any taller. With a fabric manufactured to have 4-way stretch, however, you'd be able to stretch the fabric both horizontally and vertically, or wider and taller if you like.
So clearly a 4-way stretch fabric will have more stretch than a 2-way stretch and allow for more unrestricted motion, but it's also important to remember that there are other contributors to a fabric's overall flexibility. First, you've got the type of fabric – bamboo and nylon both have natural stretchiness, so if you add elastane they get really stretchy, whereas denim and silk are not stretchy on their own and may require more elastane content. It also depends on how much elastane is incorporated into the fabric – the higher the percentage of elastane, the stretchier the garment is going to be.
What is 4-way stretch fabric used for?
You'll most often see 4-way stretch fabrics used in athletic wear, which is why it's so common in outdoor gear, from hiking pants and running headbands like the inov-8 VentureLite Pant and Hygge Original Headband to waterproof jackets and running vests, such as the Revolution Race Cyclone Rescue 2.0 jacket and Montane Gecko VP 5+ vest.
For the outdoor pursuits that we love, such as hiking, trail running and rock climbing, a little bit of give can really go a long way. Whether you just want to hike up a moderate incline without your trousers catching around your hips, pull on your waterproof jacket on over a bulky fleece in a sudden downpour or send a heel hook at the crag, you need to be able to move your limbs freely. It comes down to performance as well as comfort, as the last thing you want is to not be able to reach your arms over your head when taking your backpack off all because your clothing isn't stretchy enough.
Is more stretch always better?
For outdoor activities and exercising anyway, 4-way stretch makes clothing more flexible than 2-way stretch, but do you always want more stretch in your gear? Though stretchy clothing is infinitely more comfortable than the clothing we all wore in the 1980s, stretch isn't always merited, or even helpful.
Certainly, for the layers you wear closest to your skin, such as your base layer, thermal leggings and hiking socks, 4-way stretch is really helpful in allowing a form-fitting (and better sweat-wicking) fit, so look for an elastane percentage of at least five percent, and remember that if the fabric is already naturally stretchy, less elastane will go further.
Outer layers need less stretch, but again, for exercising it's usually helpful if they have some so you can squat and reach your arms and legs. But in a jacket, too much stretch can be annoying if the pockets are stretchy and you plan on using them to carry anything of weight, such as your phone, because the pockets will stretch out and the items will bounce around. Furthermore, an item that you want to really hug your body firmly, like compression clothing, a hiking hat or running hat could use a little less stretch, so that it does its job and doesn't easily blow away in the wind.
Then you've got gear that you really want to be taut, such as shoelaces, hiking backpacks, hammocks and tents that need to stand up to the wind. It's also good to remember that because stretchy clothing can stretch out, eventually it won't go back to its original shape. Clothing with stretch, therefore, is generally seen as less durable than non-stretchy clothing, which is a good case for skipping it in outerwear like jackets and rain pants that can be otherwise tailored to fit over clothes using adjustable draw cords and zips.
Ultimately, however, if your outdoor gear has 4-way stretch, it's probably because it enhances the performance of the gear and can largely be seen as an advantage.
All the latest inspiration, tips and guides to help you plan your next Advnture!
Julia Clarke is a staff writer for Advnture.com and the author of the book Restorative Yoga for Beginners. She loves to explore mountains on foot, bike, skis and belay and then recover on the the yoga mat. Julia graduated with a degree in journalism in 2004 and spent eight years working as a radio presenter in Kansas City, Vermont, Boston and New York City before discovering the joys of the Rocky Mountains. She then detoured west to Colorado and enjoyed 11 years teaching yoga in Vail before returning to her hometown of Glasgow, Scotland in 2020 to focus on family and writing.