The benefits and beauty of getting an alpine start
An alpine start is key to safe adventures at altitude, but there are a few things you need to know before setting the alarm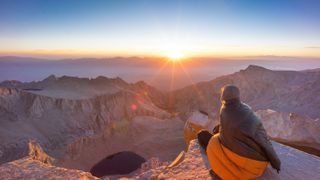 (Image credit: Nick Ocean Photography)
Growing up in Scotland, my early forays into hiking and mountaineering were daytime pursuits. We'd head out after a good breakfast, hit the trail by mid-morning and get home around dinner time. Often, blustery conditions in the early hours would blow out by 9 a.m., the sun emerge and this strategy worked well.
When I moved to the Rocky Mountains in 2009, however, my adventures moved up in elevation, and it was suddenly a different story. A lot of my mountain escapades involved myself and a fellow waitress bringing our hiking boots to the restaurant where we worked, driving to her place after our shift for a few hours sleep, then getting up at 5 a.m. to hike a 14er. For longer hikes, I'd get used to pitching my tent at the trailhead so I could set off even earlier.
This tactic wasn't the product of over ambition, or even being an especially early riser; rather, it's what's known in the mountaineering world as an alpine start, and if you're going to be heading to high elevations, it's a practice you'll want to embrace.
What is an alpine start?
An alpine start is the mountaineering term for setting off on a hike, trek or climb very early – in this case, very early means before sunrise and, quite possibly in the dead of night. As you've guessed, this means that you may be setting off on less sleep than you usually get and for at least some of your ascent, you'll be climbing in the dark or during dawn. You may even get to enjoy the sunrise from the summit, before beginning your descent in full light conditions.
What are the benefits of an alpine start?
If waking up in the middle of the night to go for a freezing cold climb up a dark mountain really doesn't sound like your idea of a good time, there are actually some really persuasive reasons for doing so, assuming getting up high is on your list.
1. Avoid storms
The first main advantage of an alpine start is that you can avoid any inclement weather. At high altitude, weather conditions can change quickly, and it's not unusual for afternoon thunderstorms to roll in during the summer months, which can be deadly.
Most of my alpine starts took place during my time in the Rockies (I suppose those would technically be Rocky starts?) and I'd always plan my departure to get me off the summit by noon at the latest, with 11 a.m. being my preferred time. This allowed me to get back below treeline before any lightning hit. Recently, I was on a glacier trek in the Alps where we didn't get going until 9 a.m. and though it was a glorious morning, by the time we reached the summit, dark clouds were gathering in the distance. We really only had about 15 minutes before we had to hastily retreat.
Get up there early and increase your chances of getting out alive.
2. Beat the crowds
Another advantage of getting an early start is that, well, you get the proverbial worm. Though you might not be the only person on the mountain at 4 a.m., you're likely to be only one of a few. This means you can enjoy an unblotted landscape of the pristine alpine environment and really get to feel like the mountain is mostly yours, which is a special feeling indeed.
From a safety aspect, if your route takes you along narrow ridges, these are much easier to navigate when you're not waiting in a line of climbers, while small summits are best enjoyed in small groups rather than being jostled by crowds of photo-snapping climbers.
3. Better snow conditions
This one really only matters if you'll be crossing snow or a glacier, but if so, you'll find that once the sun hits the snow, it softens up quickly and by mid-morning, it can be quite treacherous to cross. In a few feet of snow, you might find yourself postholing, which is exhausting, and on a glacier trek, you're much more at risk of falling into a crevasse.
First thing in the morning, the snow is much harder packed after the low overnight temperatures, as it's more frozen in place. The teeth of your crampons will be much more effective biting into that hard snow, making for an easier and safer crossing.
4. Minimize rockfall risk
Rockslides are a common occurrence in high alpine areas and though rockfall generally is an unpredictable phenomenon, scientists in Yosemite National Park have noticed that warm days tend to trigger more rockfall, pointing to the rapid expansion of rocks and cracks as well as melting ice.
Keeping yourself safe from rockfall also involves avoiding areas where previous rockslides have occurred and wearing a helmet, but setting off before the temperatures rise may reduce your risk.
5. Enjoy the sunrise
Finally, this has nothing to do with safety, but experiencing the rising sun from a high alpine peak is truly one of the most memorable experiences you can have, and even if you only ever do it once, it will definitely be worth it.
Tips for getting an alpine start
Getting an alpine start obviously makes a lot of sense, but it will also be quite different from setting off in daylight. Here are a few tips to help you prepare:
1. Get to bed early
Needless to say, you're not going to be at your best if you have to wake up at 2 a.m., though adrenaline will help with that. That said, it's a good idea to get to bed early the night before an alpine start, and skip the alcohol that night so you can sleep better and avoid setting out dehydrated.
Get all your gear ready the night before so all you have to do when your alarm goes is pull on your clothes, and don't forget to check the mountain weather forecast one more time before heading out. Know that you might be a little dazed, so always hike with a partner and keep each other accountable for checking gear and navigating properly.
2. Know where you're going
Without the sun, it will be much more difficult to navigate and if you don't know the terrain, you do raise the risk of getting lost. It's a good idea to go out with a hiking guide if you aren't experienced in the area, and if you're hiking without a guide, bring a map and compass, and know how to use them.
3. Bring a headlamp
It might sound obvious, but if you're used to hiking in daylight hours, it's easy to forget a headlamp. You really need to keep your hands free and you don't want to end up relying on your phone's flashlight for visibility. Though snowy terrain can be quite bright on a clear night, lack of snow or the presence of clouds can make for an inky blackness out there in the wilderness that's like nothing you've ever experienced in a city. It can be exhilarating, but also dangerous. Bring a headlamp.
4. Prepare for cold
Even in the height of summer, it can be bitterly cold at high altitudes overnight and frostbite is a real concern, so make sure you bring gear that you'd usually expect to only have to wear in winter. That means an insulating layer like a fleece jacket or down jacket to go underneath your waterproof jacket as well as proper windproof hiking gloves.
I hiked in the Mont Blanc massif at the beginning of July and for the ascent, I needed my fleece and every ounce of protection afforded by my Rab Khroma Tour gloves which I'd usually use for ski touring in winter. On the way down, I put my fleece in my backpack, and my Arc'teryx Beta jacket over wool t-shirt was enough protection, but I'd have struggled without that extra layer.
Basically, dress in your usual hiking layers, but make sure you have what you need for near-winter conditions.
5. Watch out for wildlife
Lots of wildlife is more active overnight or at dawn. If you're going into true high alpine areas, you might spot only small mammals like marmots and pikas as well as birds, but if you're starting out a bit lower some places in the US, wildlife like bears and mountain lions might be out looking for breakfast.
Chances are, most animals will want to stay as far away from you as possible, but understand wildlife safety and know that the light from your headlamp might pick up a lot of gleaming eyes in the dark – it can be a little scary, but they're probably more scared of you than you are of them.
All the latest inspiration, tips and guides to help you plan your next Advnture!
Julia Clarke is a staff writer for Advnture.com and the author of the book Restorative Yoga for Beginners. She loves to explore mountains on foot, bike, skis and belay and then recover on the the yoga mat. Julia graduated with a degree in journalism in 2004 and spent eight years working as a radio presenter in Kansas City, Vermont, Boston and New York City before discovering the joys of the Rocky Mountains. She then detoured west to Colorado and enjoyed 11 years teaching yoga in Vail before returning to her hometown of Glasgow, Scotland in 2020 to focus on family and writing.