Why 'be bold start cold' is excellent advice for hikers and runners
The old adage explained plus some smart alternatives for the more reptilian hikers and runners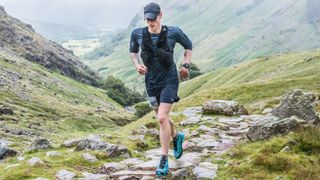 (Image credit: Rab)
Be bold, start cold. I first heard this from my ex-boyfriend during my first hike in Colorado, back in 2009. I thought he was mad.
The advice that you want to start out your run or hike a little chilly is as widely held in hiking and running circles as the idea that cotton kills and there's no such thing as bad weather, only the wrong clothing. But can it be right?
After all, Edmund Hillary and Tenzing Norgay summited Everest wearing cotton suits and there can't possibly be the right clothing to hold off a tornado, unless it comes equipped with a jet pack.
I'm of course being facetious with those examples, but if you're anything like me, you have a lot of tolerance for warm weather hiking and running, and very little for being cold. So the idea that you should leave the trailhead already feeling a little cold at the onset of your adventure might seem, well, a bit masochistic.
As the weather turns colder, you can expect plenty of warnings about avoiding hypothermia and frostbite on the trail. Carry a down jacket or a running jacket, gloves and a hat, they'll say. But don't wear them! No, put them in your backpack for later and start cold.
Why do people say to start cold, then, and what can you do if you hate frigid conditions? Read on for the reasoning for this advice, and some smart alternatives for the more reptilian hikers and runners amongst us.
Why should you start cold?
To go back to my first hike in Colorado, it was late summer or early fall, and up at 8,150 ft in Vail, this meant there was a nip in the air. Naturally, when we arrived at the trailhead, I pulled on my down jacket.
My ex looked at me and suggested, kindly, that I should take it off.
"You don't want to get all sweaty," he explained. "Because then you'll get really cold."
I put my jacket in my bag, hiked to the top of the mountain in my base layer, then put my jacket on for the descent. I was fine. He was right.
And that's what the whole adage of 'be bold, start cold' boils down to. Of course you're going to be cold at the trailhead because you're not moving yet, but rather than pile on all your layers, the best course of action is to start moving. Almost everyone will start sweating once they're walking or running, especially if it's a steeper trail.
At this point, if you're wearing a base layer, a mid layer and an outer windproof layer like a waterproof jacket, or just a running jacket for a fast-paced outing, you're either going to start to feel really uncomfortable, or have to stop and take a layer off. If you start out with one or two less layers, you might be cold in the beginning, but you'll probably warm up pretty quickly and won't have to stop 10 minutes into your jaunt to disrobe.
Of course, once winter hits it really might be ludicrously cold where you're hiking and running, and in this case, you really might not warm up. If your teeth are chattering after five or 10 minutes of brisk walking or running, put more clothes on!
But I run really cold – what can I do?
I wouldn't say that I run cold necessarily, but I definitely don't like feeling cold, whereas I've ridden a bicycle through the jungle in Cambodia in 100 degree weather for hours and felt quite cheerful. So I feel somewhat qualified to answer this question as I've certainly tested out lots of approaches to a cold start over the years.
Basically, though be bold, start cold is decent advice, it's not the end of the world if you don't heed it. If you really feel like you can't start out cold, then one option is that you just don't be bold – wear your insulated jacket to begin your adventure and take it off as soon as you feel warm but before you start to sweat. Your partner might have to stop for a whole 60 seconds while you sort yourself out, but who cares?
Another option for hikers is that you be a little bit bold and wear only two of the three hiking layers. You could wear a fleece jacket over a base layer if it's dry, or lose the mid layer and wear a waterproof jacket over a base layer. The second option means you've got a small amount of insulation (if your base layer is made of merino wool anyway) and an outer layer that will block the wind and rain and retain some body heat. If you do run really cold, these might be decent solutions to chilly starts.
What's really key here is that you make sure you wear clothing made from moisture-wicking and breathable materials, because there's a decent chance that you will break a sweat quickly. That's not such a problem if the layer closest to your body is made using merino wool, since that will keep insulating even when it's wet, or even a synthetic fabric, because they're typically quick-drying, but if you're wearing cotton or bamboo, it's going present a safety issue.
Finally, if you're really unable to start cold or remove layers when you get sweaty, a cold wind is blowing and you're heading up to high altitudes, the chances are that at the summit, and for a lot of the descent, you are going to be even colder, which is the very thing you're trying to avoid. In this scenario, always bring an extra base layer and possibly even a mid layer so you have dry clothes to change into when you get to the top.
All the latest inspiration, tips and guides to help you plan your next Advnture!
Julia Clarke is a staff writer for Advnture.com and the author of the book Restorative Yoga for Beginners. She loves to explore mountains on foot, bike, skis and belay and then recover on the the yoga mat. Julia graduated with a degree in journalism in 2004 and spent eight years working as a radio presenter in Kansas City, Vermont, Boston and New York City before discovering the joys of the Rocky Mountains. She then detoured west to Colorado and enjoyed 11 years teaching yoga in Vail before returning to her hometown of Glasgow, Scotland in 2020 to focus on family and writing.