Emergency blanket vs bivy: which offers the best shelter?
We compare an emergency blanket vs bivy for unfortunate incidents in the mountains to help you find the best protection for your wayward adventures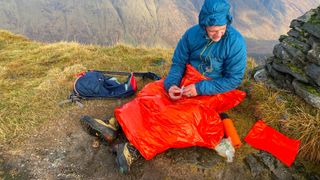 (Image credit: Fiona Russell)
With the endless feed of social media posts depicting hiking as a carefree experience full of stunning scenery and naked dips in the wild, you'd be forgiven for not realizing that it can be quite a dangerous activity. From sprained ankles to lightning strikes, there's lots that can go wrong on a hike, and that's even when you're a seasoned trekker. That's why it's so important to carry survival gear with you when you head off the beaten track.
A first aid kit can allow you to treat blisters, cuts and even stabilize a broken arm until you're able to get medical attention and a satellite messenger allows you to communicate your location to mountain rescue. But both rescue and medical help can take a long time to come, so in the meantime, you need to be able to provide yourself with adequate shelter from the elements to avoid exposure and conditions like hypothermia. If you find yourself stuck on a hillside in a blowing gale, you'll benefit from some shelter, but do you carry a bivy sack that you can crawl inside, or go with the more minimalist emergency blanket? In this article, we compare an emergency blanket vs bivy for those unfortunate incidents in the mountains to help you find the best protection for your wayward adventures.
Emergency blanket vs bivy: what are they?
An emergency blanket – also known as a space blanket, survival blanket or first aid blanket – is an ultra lightweight and extremely packable metallic blanket made from heat reflective plastic sheeting that you can throw over your shoulders in an emergency. The metallic coating reflects your own body heat back towards you for warmth, while the outer side is usually brightly colored, making it easy for rescuers to spot you.
A bivy sack is a small, simple and extremely lightweight sack that can be used in place of a one-person tent when camping, or as an emergency shelter. A basic bivy sack essentially just looks like a nylon slipcover for your sleeping bag and sleeping pad that has a waterproof layer made from a breathable fabric and a drawstring opening for your head.
Emergency blanket vs bivy: weight and packability
If you're already eyeing your hiking backpack stuffed with a water bottle or two, your waterproof jacket, hiking gloves and hat, first aid kit and lunch, map and compass, you might be a bit dubious about adding much more weight for what's supposed to be a day hike, but rest assured that neither of these options will slow you down on the trail.
An emergency blanket is virtually featherweight – out of the blankets we've tested, the Lomo Space Blanket comes in the lightest at a mere 1.75 ounces (that's about two slices of bread if you're counting) and the heaviest was the Highlander Thermo Survival Blanket at six ounces, but don't worry that still less than the weight of your average pomegranate.
A bivy sack is easily the heavier piece of gear and the weightiest we've tested is the Alpkit Elan Free-Standing Hooped Bivvy Bag which comes in at nearly two pounds, but we've tested loads that come in well under half that weight. At under four ounces, the Lifesystems Heatshield Thermal Bivi Bag makes a really good compromise for the safety-conscious hiker.
Packed down, an emergency blanket will fit in the palm of your hand and can be slid into any pocket of your backpack or jacket, while a bivy will take up a little more real estate so make sure yours comes with a stuff sack for compression.
Emergency blanket vs bivy: warmth
The biggest reason to carry an emergency blanket or bivy is so that you can stay warm if you're unable to move, the weather changes or you're out overnight when the temperatures drop. Both options will keep you warm, but in different ways.
According to Nasa, emergency blankets reflect up to 90% of your body heat, which sounds pretty effective indeed, and they are waterproof and windproof, which adds a lot of value in a pinch. However, there are some issues with emergency blankets that can reduce their warmth. First, they come in different sizes and you need to make sure that yours is big enough to fully cover your body. Next, a more basic emergency blanket won't have zips to seal out the cold. You can wrap yourself up in it like a burrito to help, but it won't seal out as much cold as an item like a sleeping bag.
A bivy sack, on the other hand, won't usually be designed to reflect your body heat or have insulating properties, but it should be both waterproof and windproof, which will fend off the worst of the weather and therefore keep you warm. It will be helpful if you're carrying insulated layers like a fleece jacket and down jacket that you can wear inside your bivy.
Emergency blanket vs bivy: coverage and shelter
When it comes to coverage and shelter provided, the extra weight of a bivy sack definitely translates into more protection against the elements.
If you're just fending off a bit of chilly weather, you might be quite happy sitting swaddled in an emergency blanket until help arrives, but if you're looking at wind and precipitation, it's going to leak more than you want it to, and if it's not big enough, it may not cover your entire body.
On the other hand, you can climb completely inside a bivy and cinch it around your head, keeping out that driving rain and howling wind. If you're claustrophobic, this won't sound too appealing, but you'll certainly have more coverage.
Emergency blanket vs bivy: versatility and durability
When you're investing in a new piece of kit, it's always helpful if it's something you can use in a variety of ways. You can wrap an emergency blanket around your shoulders, sit on it to protect you from the cold ground, or string it up like a tarp overhead and huddle under it.
There's really only one way to use a bivy, on the other hand, and that's to get inside it. However, a lightweight bivy can double as a piece of emergency gear on a day hike, and be a substitute for carrying a tent on a backpacking or fastpacking trip, so it's not without versatility either.
That said, emergency blankets definitely lose out to bivy sacks when it comes to robustness. They typically have a short shelf life and degrade easily, meaning if you've been carrying yours around for a few years and then disaster strikes, it may not be as effective as you hoped. A bivy sack should be as durable as an ultralight tent, and so long as you take good care of it should last you for years.
Emergency blanket vs bivy: cost
In terms of your initial investment, an emergency blanket is almost always going to be the cheaper option of the two. The Forclaz Single-Use Survival Blanket can be picked up for just $2, while the Decathlon Forclaz Waterproof Trekking Bag Cover at $70 is one of the cheaper options for bivvies, and you can easily spend over $100 on a good one. That said, it's important to note that a good bivy could last you forever, whereas you'll need to replace your emergency blanket frequently, especially if you start using them for extra warmth during your lunch, so the overall cost could tally up.
Swipe to scroll horizontally
Emergency blanket vs bivy

| Header Cell - Column 0 | Emergency blanket | Bivy |
| --- | --- | --- |
| Weight and packability | 1.75 - 6 oz | 4 oz - 2 lbs |
| Warmth | Reflects up to 90% of your body heat, windproof and waterproof heat | Windproof and waterproof |
| Coverage and shelter | May not cover your entire body, no zips to seal out the wind and rain | Climb inside it and cinch it tight around your head for near-full coverage |
| Versatility and durability | Can be used as a blanket, tarp or to sit on | Can be used an an emergency shelter or ultralight tent |
| Cost | $2 - $25 | $70 - $200 |
Emergency blanket vs bivy: the verdict
So is there a clear winner between these two survival tools? As always, it really depends on where you're going and what you're doing, but if you hadn't realized it already, you don't have to choose. In fact, wrapping yourself in an emergency blanket inside your bivy could be an excellent way to keep warm and dry.
If you're not heading out anywhere too remote or doing anything too technical, an emergency blanket is usually adequate and makes for an affordable, packable option. For serious adventures in very remote locations, at high altitude or anywhere you might experience extreme weather, we think it's probably worth the added weight and cost of a bivy sack, especially since you can use it in place of a tent for other adventures.
That said, if neither option feels suitable for your needs, it's worth exploring emergency group shelters, or bothy bags, where you can huddle out the storm for a lower price than a bivy, but more coverage than a blanket.
All the latest inspiration, tips and guides to help you plan your next Advnture!
Julia Clarke is a staff writer for Advnture.com and the author of the book Restorative Yoga for Beginners. She loves to explore mountains on foot, bike, skis and belay and then recover on the the yoga mat. Julia graduated with a degree in journalism in 2004 and spent eight years working as a radio presenter in Kansas City, Vermont, Boston and New York City before discovering the joys of the Rocky Mountains. She then detoured west to Colorado and enjoyed 11 years teaching yoga in Vail before returning to her hometown of Glasgow, Scotland in 2020 to focus on family and writing.