How to get your camping gear ready for summer? 9 top tips for stress free trips
Our guide to how to get your camping gear ready for summer will get your camping equipment almost as good as new for each season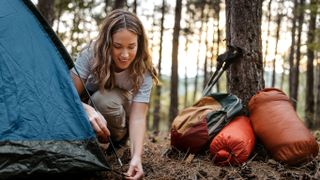 (Image credit: Getty)
Now is the time to know how to get your camping gear ready for summer. What's that coming over the hill? Why, it's the glorious sun and it represents the chance to spend long days, weekends or even weeks in the great outdoors.
Whether you're rounding up the fam for a car camping holiday or cramming your camping tent, sleeping bag and camping stove into your backpack for a wild camping expedition, having kit that's in tip-top condition will take any of the stress out of your time. Let's face it, when you cut ties with the modern world and head off on a camping trip, the last thing you need is bother.
That's why we've compiled this easy to follow guide on how to get your camping gear ready for summer. From your tent to your camping utensils, we leave no stone unturned.
1: Tick off the checklist
Perhaps you're the kind of person who has a spreadsheet for everything. Maybe you jot things down on post-it notes. Maybe you're like John Patrick Mason, Sean Connery's character in the 1996 action flick The Rock: "the blueprints are in my head". However, you store your information, it's good to have a camping checklist. If you haven't got one, luckily for you we've gone to the trouble (see the end of the previous sentence).
Now, it's time to gather all the bits and bobs on said checklist and lay them out. You don't have to be one of those people who stand on a step ladder (or similar) and take a photo to show off on Instagram, as if they were about to head up K2 (even though they're just popping an hour down the road) but laying your gear out is nonetheless useful for a visual inspection of all your kit.
2: Check the tent
If it's been a whole year since your castle of canvas was last under siege, it's definitely worth putting it up in your backyard or garden. As well as being a good aide-memoire as to how the thing pitches in the first place, it'll allow you to fully inspect it for damage, dirt or mould. The latter can be dealt with easily, while if parts of your tent are broken or torn, you may want to do a spot of DIY tent repairs. Otherwise, some components can be sent away to be repaired or you can replace them at your nearest camping store.
3: Juice up those gadgets
Headlamps, GPS units, camping lanterns, GoPros, smartwatches – they all need power. Unless you've got electrical hook-up for your palatial family tent, you'll probably be taking along a portable power source too. Make sure you charge everything up to the maximum before setting out. This will allow you to enjoy your time more when you get to your campsite, rather than juggling the logistics of keeping everything juiced up once you're there. No one wants to be in the position where they have to choose between their phone or their watch. Oh, and don't forget to pack the charging cables when you leave.
When you're in the process of recharging and replacing batteries, check your gadgets still work in the first place, before looking for any signs of corrosion or leakage and, if necessary, give the battery areas a quick wipe with a cloth.
4: Refill and replenish
Before you enjoy some outdoor rest and recouperation, there's another R&R that's needs seen to: refilling and replenishing the various liquids that'll support your camping trip. The most obvious is fuel for your camping stove. It can be difficult to know how much fuel to take backpacking or to the campsite, so if in doubt, you can usually either refill your canisters at your local camping shop, or simply buy a new one.
Other things to make sure you have enough of are suncream, insect repellent, toothpaste and, most obviously, water. We always take huge bottles of water if we're car camping, as weight isn't an issue. If you're venturing into the backcountry, a water filter is a real boon. It's worth cleaning your filter if it's been a while since you last used it. Follow the manufacturer's instructions for your particular model.
5: The proof is in the… proofing
Rain could seriously dampen your spirits on a camping trip if your old waterproof kit is past its best. But, don't lose your hydrostatic head, instead deal with the issue head on with some waterproofing products from a brand like Nikwax. Clean your hiking boots and apply waterproofing, wash your Gore-Tex jacket and, again, apply waterproofing and then spray your tent's fabric with specialist waterproofer. Once it's all done, you can pour water all over them and enjoy the satisfaction of watching drops bead together and fall harmlessly away.
6: Check your inflatables
Is there anything as deflating as waking up on the first night of an expedition to find your sleeping pad has lost its magic and that you might as well be sleeping on the cold, hard ground? Sleeping pads, air mattresses, inflatable pillows, perhaps an inflatable sheep, whatever air-filled items make you happy on your camping trips, blow them up a few days before you set out and inspect them to check they're not leaking air.
7: First aid kitted out
A first aid kit is only new once, which is why it's good to get into the habit of making your own first aid kit. It's worth taking matters into your own hands here and really considering the kind of adventure you're going on, as this will determine what is actually valuable as part of your kit.
8: Best before you set off
Even the best camping meals have best before and use by dates, so it's worth checking any meals you've had stashed are still in date. Nothing ruins a camping trip like a dicky stomach and midnight runs to the nearby conveniences.
9: A quick spruce
Anything that's been stashed away for the best part of a year will need a quick clean. It's worth getting any pots, pans, plates, spoons, knives, multitools, sporks, forks that could do with a quick spruce done before you set out. Properly cleaning pocket knives and multitools can be a little fiddly, but it's worth it in the long run.
The same goes for items like camping chairs and tables. There's quite an art to knowing how to clean camping chairs and the like, so it's best to get into the practice.
All the latest inspiration, tips and guides to help you plan your next Advnture!
Alex is a freelance adventure writer and mountain leader with an insatiable passion for the mountains. A Cumbrian born and bred, his native English Lake District has a special place in his heart, though he is at least equally happy in North Wales, the Scottish Highlands or the European Alps. Through his hiking, mountaineering, climbing and trail running adventures, Alex aims to inspire others to get outdoors. He is currently President of the London Mountaineering Club, training to become a winter mountain leader, looking to finally finish bagging all the Wainwright fells of the Lake District and hoping to scale more Alpine 4000ers when circumstances allow. Find out more at www.alexfoxfield.com