Your guide to camping in Colorado
Get the down and dirty on camping in Colorado, from when to go to what you'll need to stay safe and keep the stoke high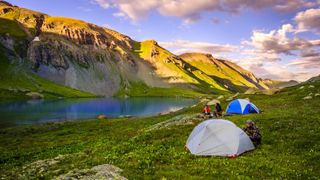 (Image credit: Kyle Ledeboer / Aurora Photos)
There are few things I love more than camping in Colorado. Over the years, I've camped in every one of its National Parks, along its rivers and on the way up to the summits of many of its 14ers. I've camped in the middle of the Telluride during a Pearl Jam concert, at beer festivals and bluegrass festivals, but mostly in the backcountry. I've ridden chairlifts, rafted whitewater, and hiked for miles just to find the perfect spot.
If you're Colorado-bound this year, you are hopefully considering bringing along your best tent and sleeping bag, but you may have a few questions. Is Colorado good for camping? What month is best to camp? Is it legal to camp anywhere? And what do you need for camping in Colorado? Allow me to answer your questions, make a few recommendations for my favorite camping areas and help you get on the road to some high altitude overnight antics, whether you're car camping, backpacking or hammock camping.
Is Colorado good for camping?
Heck yes, Colorado is good for camping. What can I say? It's the eighth largest state by size and with just five million residents, there's plenty of open space. The scenery here ranks up there with the most beautiful states in the country, with four stunning National Parks, 11 National Forests, 42 State Parks and of course the Rocky Mountains running right through it. There's oodles of public land, which I'll get to in a moment, and camping is a way of life here so generally speaking, the landscape is pristine and Coloradans take good care to leave no trace.
Then you've got the weather – any resident of the Centennial State will tell you that they enjoy 300 days of sunshine a year, so it's rare that you'll see any rain in the summer or fall. So little, in fact, that in 12 years I barely ever used the rainfly on my tent, and spent my nights stargazing at the Milky Way.
Though it's not exactly bug-free, the high altitude and arid climate in Colorado also mean that, with some exceptions down by the river, you're much more likely to be able to spend the night without swatting at mosquitoes non-stop (bring your insect repellent just in case though). Similarly, though ticks are quite common, the carrier for Lyme disease doesn't exist in Colorado, so feel free to break out the hiking shorts during the day.
One slight downside to camping in Colorado, and it's the only one I can think of, is that each year it seems as though the risk of wildfires gets worse, thanks to global warming. That can mean there are broad fire bans across the state that last months, which leaves you camping without a fire. Sad, but look into wood-burning stoves, which you may be able to use in some places, and camping lanterns to help the mood.
What month is best to camp in Colorado?
Up in the mountains, camping season doesn't usually get going until late June, and wraps up by the end of September. These areas can see snow at virtually any time of the year, but overall the summers and early fall are sublime – daytime highs in the 80s and overnight lows in the 40s and very little precipitation. Historically, afternoon rain storms were common in July and you'd want to be in your tent or at a nearby brewery at this time, but sadly these have waned in recent years.
If you're planning on frontcountry camping in developed campgrounds, July and August are likely to be very busy due to the school holidays, so I suggest heading to the backcountry where you can enjoy the best weather in July and August, and escape the crowds.
Down lower, around Denver and Boulder, camping season lasts a bit longer, though the summers can be fairly ferocious.
Is it legal to camp anywhere in Colorado?
You can't camp just anywhere, but as I said earlier, there is a lot of public land in Colorado where you can pitch your tent. And by a lot, I mean over eight million acres of BLM land, 14.5 million acres of National Forest, plus the aforementioned State and National Parks where there are developed campgrounds and wilderness camping, too.
Some of my favorite areas for free backcountry camping include:
All alpine lakes near Vail (Gore, Deluge, Booth, Pitkin)
Homestake, on the road up to Leadville
Twin Lakes, just south of Leadville, as well as various trailheads for hiking the Collegiate Peaks and other 14ers along 82
Radium Hot Springs
This is by no means an exhaustive list; these are just some of the places I've returned to many times over the years and never tire of. Outside of the BLM land and National Forests, you'll probably need a reservation to camp, and weekends can get booked up months in advance. Again, my advice is to head for the wilderness or go midweek.
How much does it cost to camp in Colorado?
If you're dead set on paying to camp and enjoying the amenities that come with frontcountry camping, you can expect to pay up to $35 per night, however remember that that fee is per site and you may be able to split it between as many as eight people, making it a really inexpensive way to vacation. My friend Gina once reserved the large group site at Difficult Campground near Aspen for her birthday, down by the Roaring Fork River. At $108 per night, it definitely sounds pricey, but there were about 10 of us there that weekend, so it actually worked out really cheap.

The most I've ever paid was probably $30 for a night at Longs Peak campground in Rocky Mountain National Park so I could wake up bright and early and start climbing Longs the next day. You can find lots of extortionate glamping sites in Colorado if you're looking to burn some bucks, but just easily find really affordable camping in great campgrounds, even in National Parks. For example, I camped at East Portal campground in Black Canyon of the Gunnison a few years ago and paid $16 per night, split between two of us. And again, there's so much free camping that it's really up to you how much you want to spend.
What do you need for camping in Colorado
As far as I'm concerned, there are two main factors to prepare for when it comes to camping in Colorado that may different from camping in places like the East Coast or the UK. First, the presence of bears, and second, the high altitude.
Let's start with bears. Colorado is home to up to 20,000 black bears (but no grizzlies) so you might meet one. We definitely had one roaming through our Longs Peak campground for an hour or two with the late night munchies. For camping in Colorado, you will need to be bear aware. That means knowing how to use bear spray for starters, and more importantly, knowing how to store your food and smelly toiletries. If you're in a campground, use the bear canisters provided. If you're in the backcountry, learn how to hang a bear bag fast, or you'll just invite unwanted visitors to camp and possibly end up with no breakfast.
Then you've got the issue of the altitude here. If you're up in the mountains, you could be camping at anywhere from 8,000 to 11,000 feet above sea level. Don't go above treeline, which is at about 11,000 feet, if you can avoid it, so that you'll be protected from lightning strikes, which are common in the summer after noon. If you're hiking up to an alpine lake for the night wearing a heavy backpack, you'll want to make sure you leave yourself time to acclimate upon arriving in Colorado, and train for hiking at high altitude.
Even if you're not hiking in or very far though, the main thing to understand about camping at altitude that may be different is that the overnights can get quite cold, even when it feels hot during the day. In all honesty, you'll probably never use your waterproof jacket here (but bring it just in case) but you'll definitely want a good down jacket and a beanie hat for when the sun drops, even in July, and a two-season sleeping bag that's rated for 0/32°F for summer camping, or a three-season sleeping bag if you think you'll be camping in the shoulder seasons.
Beyond that and your bear equipment, bring some sunscreen for those cloudless days, and a water purification system – a high altitude environment can be extra dehydrating, and you need to protect yourself from common waterborne illnesses here such as crypto and giardia.
All the latest inspiration, tips and guides to help you plan your next Advnture!
Julia Clarke is a staff writer for Advnture.com and the author of the book Restorative Yoga for Beginners. She loves to explore mountains on foot, bike, skis and belay and then recover on the the yoga mat. Julia graduated with a degree in journalism in 2004 and spent eight years working as a radio presenter in Kansas City, Vermont, Boston and New York City before discovering the joys of the Rocky Mountains. She then detoured west to Colorado and enjoyed 11 years teaching yoga in Vail before returning to her hometown of Glasgow, Scotland in 2020 to focus on family and writing.