Is a wedding hike the ultimate dream, or the worst idea ever?
Wedding win or trail fail? Wedding hikes are getting more and more popular, but are they a disaster-in-waiting?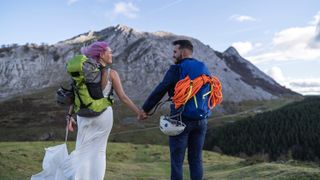 (Image credit: Westend61)
Two summers ago, I was invited as a plus one on a group hike up Arthur's Seat, a hill in the middle of Edinburgh. It was for the 40th birthday of a guy named Rob, an old friend of my boyfriend and when we arrived, a crowd of his friends and family had assembled in the parking lot. Various bags of picnic materials were distributed and we began to walk up the switchbacking trail that climbs from the Scottish Parliament to gain panoramic views of the city and beyond. It was an unusually hot, sunny day and soon, elderly family members were understandably beginning to grumble.
"What about here?" one of them would call out to Rob's longtime girlfriend, who was leading the charge, every couple of minutes. She would shake her head no and keep scurrying forward, inappropriately dressed in a very sweaty-looking yellow raincoat. Finally we arrived at her desired spot, a little shy of the summit, and we had to admit she was right when we got views of the Waters of Leith glittering in the distance.
I plopped down on the grass amid a flurry of activity with tables being set up and a small feast being laid out. Then Rob's girlfriend made a speech which turned out to be a marriage proposal, the yellow raincoat came off to reveal a white wedding dress, and suddenly we all realized we weren't at a birthday party at all but a wedding. To be honest, I didn't really know the couple, but it's still hands down the best wedding I've ever been to. We had stunning views, it was low key and over in a couple of hours because there was no enforced late-night grooving to the tired tunes of a terrible wedding DJ.
It got me wondering, though, is a wedding hike a good idea? Hiking with your guests to a serene spot to say your vows is becoming increasingly popular, and if you love adventuring in your hiking boots, I can see the appeal. You get to do your favorite thing on your big day, share your special nature spot with all your loved ones and the backdrop for your wedding pictures is going to be the best in the world – but doesn't it seem like there's so much that could go wrong? That day, any number of important guests might have rolled an ankle before we reached the top and missed out on the nuptials altogether. What if the groom dropped the ring and it rolled all the way down to Edinburgh? It definitely seems like the threat level is elevated from Sore Feet From Dancing and Very Hungover to Sprained Ankle and Altitude Sickness when you take your nuptials to the trail.
Take my friend Irene for example. She and her husband didn't do a wedding hike, but they built in loads of outdoor adventures with friends in the days leading up to their wedding. They went mountain biking in Sedona and Joshua Tree National Park before going camping in Big Sur where they and their guests built a massive campfire in Pfeiffer State Park. Her groom-to-be gathered firewood all night to burn on the campfire. On the day of their wedding, he seemed fine, but that night, once the festivities were over it was a different story. Turns out that firewood and the entire area where they camped was crawling with poison oak.
"His penis, balls and hands were so swollen the next day I had to bring him to urgent care. It was great that we were living in sin for eight years because our wedding night was a bust!"
This is the kind of thing I'm talking about. Swollen genitals. Poisonous plants. Tick bites. Twisted ankles. Whiney guests (although they're kind of a given at any wedding). A wedding hike sounds brilliant if you love the outdoors, but is it really all it's cracked up to be?
The pros of organizing a wedding hike
Let's start with some of the good reasons to have a wedding hike for your big day.
1. The scenery
Starting with the most obvious, nature is the most beautiful, magical venue in the world. Whether you're on top of a mountain exchanging your vows with panoramic views, on the beach with the waves rolling into shore or deep in a gorgeous forest with a breeze whispering through the mighty Sequoias, you can't beat the experience of walking down the trail instead of the aisle when it comes to overall vibe.
2. It's cheap
This is a big one – you could save thousands of dollars. Modern weddings are obscenely expensive but if your wedding is a hike, there's no rental fee for the venue (unless you're doing it in a National Park, then there's the price of admittance) and you don't have to fork out for an open bar. You certainly don't have to pay for cut flowers – nature is full of them! You don't have to pay a DJ because we all know playing music makes you the most hated hiker on the hiking trail.
3. No stupid shoes
This one is my personal favorite, since every wedding I attend fills me with dread at the thought of having to spend five hours in strappy heels. Everyone can just wear their well-worn hiking shoes with thick soles and arch support. Sublime.
4. Unique activities
It also opens up a whole new world of possibilities when it comes to do with the remaining time after the vows are over. You probably won't do much dancing unless you're bringing musical instruments, but you could have all kinds of other built-in activities that would make your wedding totally unique and memorable, like bird watching, foraging, forest bathing, outdoor yoga or meditation.
5. No burning the midnight oil
For safety reasons, the whole thing has to be over well before nightfall, unless you're planning on furnishing the wedding party with headlamps, so there's no waiting for well-marinaded guests to leave so you can go home. Wouldn't it be nice to wake up on your first day as a married couple refreshed and ready to seize the day?
Wedding hikes: what could go wrong?
In short, everything. Let's set aside the weather component, since that applies to all outdoor weddings, although yes, you've got to think about rain, wind and even lightning, snow and hail if you're planning on getting married on top of a 14er. But never mind that.
There's still loads that could go wrong. A bear could crash your ceremony and devour a moose in front of your guests. An army of ravens could tear into your wedding breakfast before you have a chance to put the canapes together. Your best man could get hit by a falling tree. Call me a catastrophist, but where nature, wildlife and humans intersect, there's a lot that can go wrong.
Basically, you need to factor in all of the usual hiking hazards (injury, getting lost, snakes, tick bites, avalanches, hypothermia) and decide if you want to risk exposing your nearest and dearest to that, or if you're better off just signing the dotted line somewhere with insurance coverage. Though now I think about it, inviting a hundred people to dance in high heels while getting obliterated at an open bar is kind of risky too…
Should you plan a wedding hike?
It kind of all comes down to who you want to come. Planning a destination wedding is a well-known way of keeping numbers down, so the wedding hike could simply be the 2.0 version of making sure your uncle Joe's third wife doesn't come. Do you have aged parents, aunties and even grandparents that you want in attendance? Then maybe have it on the golf course. But if everyone on your list is a seasoned hiker, it could be beautiful, memorable and save you the equivalent of a down payment on your first home.
But if you go for it, you have to accept that you'll be responsible for your guests' health and safety. You'll need to make sure you and all of your guests are dressed for hiking, so framing it as a hike rather than a wedding might actually be a smart idea. Pick a trail that's not too technical or too busy, for that matter. If you're planning on having refreshments, there are certain logistics that come with getting everything in and out, and remember you have to adhere to the principles of Leave No Trace. Do you really want to spend your wedding picking through a forest with a trash bag?
Come to think of it, why don't you plan on a honeymoon hike instead? Our editor at Advnture, Cat Ellis, went to Yosemite National Park for hers and by all accounts it was heavenly. Or if you're dead set on a wedding hike, how about you and your beloved elope? My friend Kristina's pictures of just her and her husband tying the knot under the giant redwoods are sensational. In fact, I think I just found the answer to the perfect wedding – it's a hike. With no guests.
All the latest inspiration, tips and guides to help you plan your next Advnture!
Julia Clarke is a staff writer for Advnture.com and the author of the book Restorative Yoga for Beginners. She loves to explore mountains on foot, bike, skis and belay and then recover on the the yoga mat. Julia graduated with a degree in journalism in 2004 and spent eight years working as a radio presenter in Kansas City, Vermont, Boston and New York City before discovering the joys of the Rocky Mountains. She then detoured west to Colorado and enjoyed 11 years teaching yoga in Vail before returning to her hometown of Glasgow, Scotland in 2020 to focus on family and writing.