King Kenny hits new carp heights
Carp maestro Simon Kenny catches two giants at Wellington Country Park.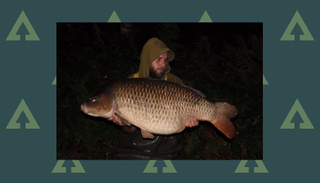 (Image credit: Angler's Mail)
Welcome to Advnture, the new home of AnglersMail.co.uk
Simon only got himself a ticket for Berkshire's Wellington Country Park this season and he topped a recent trip with this PB 55 lb 8 oz common.
And then the welder, from Diss, Norfolk, connected with a rare 'double take' for Wellington Country Park… resulting in a 45 lb 9 oz mirror and a 41 lb 12 oz ghost carp.
Simon explained: "As usual I arrived Sunday morning. The weekend boys hadn't seen or caught much and after a few laps myself I was none the wiser to the location of the carp.
"The carp in Wellington Country Park can be hard to track down sometimes they don't always follow the wind and don't always show.
"So first night I dropped in the little lake but by midday the follow day I realised my mistake. I hadn't heard or seen a thing so the gear went back on the barrow.
"While looking around I stopped in to have a cuppa with another member and after about half an hour looking out from his swim I saw a monster common carp show.
"It was 250 yards away but I saw it plain as day it glistened in the sun and sent up a big spray as it crashed back in – that would do for me."
Wellington Country Park giants from the boathouse
Simon continued: "It had showed in front of the boathouse swim. I caught the Chinese Common out of here a few weeks ago and I knew a couple of lovely gravel spots so I could get my rods out with minimum disturbance. The rod were wrapped and went out first time.
"That evening I started getting liners on one of my rods proper big slow ones all the way up and down. The 'Welly' carp may not show much but they give themselves away with the liners.
"I was just thinking about turning in for the night when I had another series of bleeps but this time the clip pulled and it was game-on.
"I lifted into the fish and instantly was met with solid resistance. The whole fight the fish felt big just slow and heavy, typical big fish.
"I saw the bulk of a massive fish go over the cord in the moonlight but I couldn't see for sure.
"Once I turned on my light I couldn't believe the size of it – it was almost certainly the fish I'd seen show.
"The big common on the scales went 55 lb 8 oz and set a new PB. I was over the moon."
Two more giants – at same time!
"I thought the fish had done the off after that as all the liners stopped," continued Simon.
"But late morning the following day the middle rod busted off completely out of the blue and I had a good mirror in the margins. Then the next thing I know, the other rod was melting off.
"Luckily another member was with me and he picked up the rod and managed to slow the fish down.
"After a few hairy moments I managed to land both fish. It was a crazy moment and I never expected to get a double take on somewhere like 'Welly'.
"That was all the action I had for the trip but I was proper made up three fish for over 140 lb," added Simon.
All Simon's Wellington Country Park whackers fell to Sticky Baits Signature Squid pop-ups over Manilla freebies in open water at 50 yards.
All the latest inspiration, tips and guides to help you plan your next Advnture!
Running from 1964 until 2020, Angler's Mail was the UK's leading weekly magazine devoted to coarse fishing, telling readers everything they needed to know about which fish to catch, where to catch them, and what kit they needed to do it. Now, loads of the magazine's expert advice can be found on Advnture.com, as a helpful resource for angling newcomers and experts alike.