Backpacking tent vs hammock: for lightweight overnights
We examine the pros and cons of a backpacking tent vs hammock to help you decide on your next lightweight, low-fuss camping shelter of choice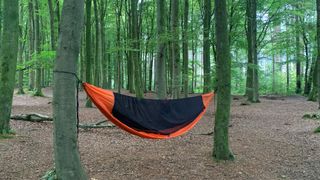 (Image credit: Julia Clarke)
Backpacking is getting lighter and easier with each passing camping season. These days, you can choose from a startling array of one-person tents, including bivy sacks and non-freestanding tents that you can erect with your trekking poles, while some freethinkers are foregoing tents altogether and just slinging a hammock between two trees when it comes time to get some rest. So are you looking for level ground on your backpacking trips, or does the idea of swinging in the breeze catch your fancy? We examine the pros and cons of a backpacking tent vs hammock to help you decide on your next lightweight, low-fuss camping shelter of choice.
Backpacking tent vs hammock: weight and packability
The gap between the weight of a backpacking tent and a hammock is definitely narrowing – the Alpkit Elan free-standing, hooped bivy sack weighs in at 1.9lbs next to to Ticket to the Moon Lightest Pro's 1.4lbs – but your typical camping hammock is obviously going to weight a bit less than even a trekking pole tent like the Six Moon Designs Skyscape Trekker. That's because your hammock doesn't come with tent poles, tent pegs and a rain fly. However, remember that the weight of your actual hammock isn't all the gear you need to use it – you'll need a suspension system and a tarp if you're not desert camping, so the weight could be even more negligible than the scale makes it seem.
That said, when it comes to packability, your camping hammock probably wins out, thanks again to the lack of tent poles. Because a hammock is largely fabric and a few carabiners, you can more easily squash it into your backpack compared to the rigid structures required for a tent.
On a related note, if you're flying with camping gear and want to carry on your luggage instead of checking it, you'll more easily be able to do so with a hammock.
Backpacking tent vs hammock: access and ease of setup
In terms of where you can actually camp, both options have their distinct pros and cons. To set up a backpacking tent, you want an area of reasonably level, clear and dry ground. Although there are solutions for camping on a slope, it's never ideal, but that's never a problem with a hammock. Even on the steepest of slopes, you could theoretically sling a hammock between any two trees, although getting in and out could be more dangerous. Of course, hammocks do require trees so they really only make sense if you're camping in a forested area, and even then the trees need to be well spaced, ideally without low branches, and strong. It's also possible that you'll be able to hammock camp in certain places where tent camping isn't allowed, but that really depends on location.
Once you've found the right spot to camp, tents have become drastically easier to set up than they used to be, but even the easiest ones will take a couple of minutes to insert poles and stake out properly. A hammock such as the Ticket to the Moon Original Pro can be set up in under a minute – just wrap the suspension cord around a tree and clip in.
Backpacking tent vs hammock: protection and safety
Of course, the reason you don't just sleep in the open air is that you want protection from the elements and, usually, creepie crawlies. If you're using your rain fly and your tent has taped seams and is staked out properly, your backpacking tent should hold up well against even heavy rain and strong winds, while only the odd winged companion will creep in if you're not fastidious about zipping it up quickly. You're closer to the ground, so in theory spiders and snakes have a better chance of joining you, but be careful and you should be fine.
In a hammock, you'll need a tarp to keep the rain off and even then, it's not necessarily quite as failsafe as a tent, and there's nothing to protect you from the wind unless you build a wind block or find a natural one. As long as you get one with a mosquito net, however, you'll be well protected from any critters of the slithering or crawling variety.
Safety is a vast and complicated issue that makes it near impossible to compare any two things, so leaving aside catastrophic events like bear attacks and falling trees for now, it's fair to say only that you can't easily fall out of a tent (and even if it collapses on you, it won't do you much damage) whereas you could theoretically fall out of a hammock. And that could hurt, a lot.
Backpacking tent vs hammock: temperature regulation and breathability
In addition to protection from wet weather, you of course want to be warm enough while you sleep and not sweaty and clammy. Neither option is insulated, but your tent does provide a nice shelter that allows some body heat to build up, and you can find tents for all seasons. However even the best ones can become clammy and you'll want to understand how to stop condensation in a tent in most climates.
A camping hammock doesn't suffer the same sweaty problems at all, and between breathable fabric and a mosquito net you should be enjoying a cool breeze all night long. Of course, that means you'll also be a lot cooler while you sleep, which is great in the summer months but when it cools off you'll need a more robust hammock like the Hennessy Hammock 4Season Expedition Zip or a special quilt that attaches to the outside of your hammock, which then adds bulk and weight to your gear haul.
Backpacking tent vs hammock: comfort
We'll start by saying that comfort is an extremely subjective matter, but we'll do our best here. Assuming that your temperature is perfect, most people still don't find sleeping on the ground particularly comfortable, and you are definitely subject to the various lumps and bumps beneath you, even with a good sleeping pad. You may be able to make your sleep system more comfortable with a thicker pad and a sleeping bag alternative.
Some people think hammocks are unbelievably comfy, like being swaddled in a cocoon, and love being up off the ground; others find it gives them a sore back. Some people love the rocking sensation which lulls them into a deep sleep; others find it disorienting. You may be able to make it more comfortable by getting a hammock with an integrated ridgeline, which helps keep your back straighter, however you may find it more difficult to move around in your sleep. Whether or not you're comfortable in either choice depends on you, really.
Backpacking tent vs hammock: privacy and storage
One obvious benefit to a backpacking tent is that you have a place to stash your gear and privacy to change your clothes. If you're out in the wild, the latter probably doesn't matter at all, but needless to say, hammocks are mostly just for lying down in (though you can sit in them, like a swing). You'll be changing your clothes out in the open with a hammock, and your backpack will be on the ground, which means it's more vulnerable to the damp ground, curious critters and sticky-fingered campers.
Backpacking tent vs hammock: durability
Durability is another area that's largely tied to quality and the better quality of gear you buy, the more durable it should be. However, a tent simply has more than can go wrong between zippers that can break, poles that can tear fabric and tent pegs that can bend. That's not to say your camping hammock can't also tear, which could be disastrous, but treat it well and it should be a bit more reliable.
Backpacking tent vs hammock: price
This final criteria is one we can call with almost complete certainty – a backpacking tent is likely to set you back a bit more than a camping hammock, owing to the fact that it requires more materials. Expect to spend a few hundred dollars on a backpacking tent (unless you're getting one from Aldi) while most of the best hammocks we've tested are under $100. In the interests of fairness here, if you want to spend a lot on a camping hammock, look no further than the Hennessy Hammock 4Season Expedition Zip which comes in at $270.
Swipe to scroll horizontally
Backpacking tent vs hammock

| Header Cell - Column 0 | Backpacking tent | Hammock |
| --- | --- | --- |
| Weight and packability | Getting lighter, but heavier than a hammock and less packable | Lightweight and packable thanks to no poles |
| Access and ease of setup | Needs fairly level, clear ground, set up in a few minutes | Needs two trees, the right distance apart, set up can be as little as one minute |
| Protection and safety | Good shelter from rain and wind, plus you can't fall out | No protection from wind or rain (without a tarp), you could fall out |
| Temperature regulation and breathability | Shields the wind and provides a little warmth, but can get clammy on the inside | Very breathable, but cooler |
| Comfort | Comfortable if you like sleeping on the ground | Comfortable if you like sleeping suspended in the air |
| Privacy and storage | Privacy to change clothes and a place to stash your gear | No place to hide or store your gear |
| Durability | More moving parts to break | Less moving parts to break |
| Price | Expect to spend a few hundred dollars | Expect to spend under $100 |
Backpacking tent vs hammock: the verdict
Pitched side by side, there are obvious advantages to both options. A backpacking tent provides good protection, privacy and storage, and they're getting lighter and more packable every day. They can't quite compete with the light weight of camping hammocks, however, which don't even require level ground for sleeping and are easy to set up, for a much lower price. Truth be told, it's clear that this one really comes down to your personal preference – do you want to sleep in a sling, swinging gently in the breeze, or do you want the security of a structure and solid ground?
All the latest inspiration, tips and guides to help you plan your next Advnture!
Julia Clarke is a staff writer for Advnture.com and the author of the book Restorative Yoga for Beginners. She loves to explore mountains on foot, bike, skis and belay and then recover on the the yoga mat. Julia graduated with a degree in journalism in 2004 and spent eight years working as a radio presenter in Kansas City, Vermont, Boston and New York City before discovering the joys of the Rocky Mountains. She then detoured west to Colorado and enjoyed 11 years teaching yoga in Vail before returning to her hometown of Glasgow, Scotland in 2020 to focus on family and writing.