How far can you hike in a day?
We look at 7 factors that will determine how far you can hike in a day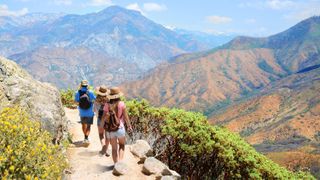 (Image credit: MargaretW)
How far can you hike in a day? If you're going backpacking, this is a question you might well be asking yourself. After all, it can make the difference between finishing the Appalachian Trail in five months or seven. Even if you're just planning on a long day hike, you might reasonably wonder whether you can reach the summit and get back to the trailhead before dark.
The truth is, there is no precise answer to this question, although presumably at some point you max out on what's humanly possible. Most of us would agree that about 10 or 12 miles in a day is a good max, while 16 miles would be considered the upper end of a long day of hiking. My longest days on the trail were a couple of 23 milers on the West Highland Way, while the intrepid adventurer Andrew Skurka famously covers about 33 miles in a day for months on end when he's completing his long distance journeys.
As you can see, how far you can hike on a day runs on a big spectrum, and there are all types of variables that could affect your hiking pace, from what type of hiking boots you're wearing to what you did the day before. Rather than try to come up with a one-size-fits-all distance for how far you can hike in a day, let's take a look at some of the factors that will impact how far you can hike in a day.
1. Fitness
First, there's the obvious factor of how fit you are. If you do a lot of hiking and are well-conditioned with strong legs, you should arguably be able to hike further than someone who is less fit, though it's amazing how often that assumption turns out to be wrong. Some of us just seem to travel at a slower pace than others.
This also raises the issue that just because you can hike a certain distance in a day, doesn't mean you should. My famously long days on the West Highland Way left my feet in absolute tatters, so while my legs and energy felt fine, I realized that shorter days would have made for a more enjoyable time.
2. Baggage on board
How much weight you're carrying might also affect how far you can go in a day. As the miles chalk up, there's a big difference between carrying a daypack holding a water bottle and a waterproof jacket versus hauling a backpacking backpack loaded with your tent, sleeping bag, sleeping pad and food for the night. If you're not used to hiking with weight, you might find you're considerably slower with a pack, especially on the uphills.
3. Trail difficulty and terrain
There are lots of factors that make a hiking trail hard – steepness and terrain like boulder fields being the big ones. A steep trail with lots of loose crumbly rock or that requires scrambling will take much longer to hike than one with a gentle incline and a well-maintained path. You might assume that all Colorado 14ers are equally tough and your pace will be the same, but there's a big difference between the easiest 14ers, like Grays Peak and the most difficult 14ers.
4. Trail conditions
While some aspects of a trail like elevation gain don't change, trail conditions can be weather dependent and can drastically vary how fast you're able to walk. Mud, postholing in deep snow, fallen trees and river crossings can all add time to your hike, meaning you might not get as far in a day as you would on a well-maintained trail.
5. Weather conditions
While the weather can wreak havoc on what's happening underfoot, it can also hamper your ability to move quickly. Hiking against strong winds can be slow going, while heavy rain, hail or lightning might have you seeking refuge for an hour, trimming that precious hiking time. Hiking in hot weather means you'll be moving a lot slower and need to take frequent water breaks. Always check the forecast using a reliable weather app before you leave, especially if you're tight on time.
6. Altitude
If you don't already know, hiking at high altitude is a whole different ball game to near-sea level. Thanks to lower pressure, the oxygen molecules are more diffuse as you go up in altitude, meaning that once you get to 8,000 feet or higher, you'll get less oxygen with each breath. This can mean a racing heart, shortness of breath and generally feeling weaker, so you'll usually move at a slower pace, especially if you're not well acclimated.
7. Daylight hours
Finally, one question to ask yourself when wondering how far you can hike in a day is, how long is the day? Summer days in northern climes can mean you're looking at 20 hours of daylight, and that means you can get a lot of hiking done if you're fit. But once the shorter days return, if you don't want to be hiking after dark, you'll be a bit more limited by sunrise and sunset. It's a good idea to always carry a headlamp to make sure you're prepared if you misjudge your abilities.
Planning your hike
As you can see, how far you can hike in a day depends on a lot of factors, some of which vary day by day. Make sure to read our guides on how to plan a hike and how to choose a hiking trail to ensure that you don't get out of your depth, and always carry the hiking essentials so that you can stay safe if you're out there for longer than expected.
All the latest inspiration, tips and guides to help you plan your next Advnture!
Julia Clarke is a staff writer for Advnture.com and the author of the book Restorative Yoga for Beginners. She loves to explore mountains on foot, bike, skis and belay and then recover on the the yoga mat. Julia graduated with a degree in journalism in 2004 and spent eight years working as a radio presenter in Kansas City, Vermont, Boston and New York City before discovering the joys of the Rocky Mountains. She then detoured west to Colorado and enjoyed 11 years teaching yoga in Vail before returning to her hometown of Glasgow, Scotland in 2020 to focus on family and writing.