Day hiking: a complete guide
What is day hiking, anyway? In this article, we look at this hiking term and cover exactly what you need to know, and pack, before attempting your next day hike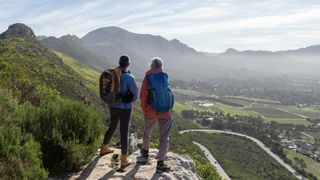 (Image credit: Getty)
This weekend I hiked Ben Cruachan, a mountain in the highlands of Scotland that I'd never done before. It's the highest and one of the more popular Munros in Argyll and Bute, rising up from the banks of stunning Loch Awe and together with another Munro and a smaller Corbett, it forms a horseshoe loop around the bowl that holds a reservoir and Cruachan Dam, where the Star Wars series Andor was filmed. It's also reachable by train, making it very appealing to me as well as other car-free city dwellers.
Being an avid hiker and knowing the hike was around nine miles, I took the first train out and set off at 11:30 a.m., confident I'd make it back for the last train at 6:40 p.m. When I didn't reach the summit until 3 p.m. thanks to a couple of wild swims and a leisurely lunch, I realized I was going to have to move through the remaining half of the hike at a fast clip or I'd be in danger of spending an unplanned night in the wild. I made the train, but on my way down I passed several groups of very slow-moving (and clearly unhappy) hikers who had apparently underestimated the demands of this pretty challenging hike, which features a long ridge of almost exclusive jagged rocks that you need to slowly pick your way over. None of them looked prepared to be spending the night out there, and I'm certain that all of them were up there far later than they'd planned.
It all got me thinking that the term "day hiking" can be a little misleading. Just because something is considered a day hike, does that mean it's automatically easy and you can do it in trainers? What is day hiking, anyway? In this article, we look at this somewhat ambiguous term and cover exactly what you need to know, and pack, before attempting your next day hike.
What is day hiking?
Day hiking is a term used to describe a hike that is completed in a single day. A day hike could range from an urban hike in San Diego to a Colorado 14er. We don't typically use the term in ordinary speech, however, as you'd normally just say that you went hiking. The main reason you would use the term day hiking would be to distinguish it from a long distance adventure like backpacking or thru-hiking.
What is the difference between day hiking and backpacking?
Whereas a day hike is one that can be completed in a day, backpacking entails at least one night of camping along the way. For backpacking, you'll carry a one-person tent plus other camping gear like a sleeping bag, sleeping pad and camping stove, whereas if you're day hiking, you'll be planning to get back home or to your hotel by night to sleep in your bed. One exception here, however, is if you're base camping. In this case, you could set up camp and then head out on day hikes from there each day. You'd still be sleeping in your tent at night, but not carrying it with you throughout the day.
How long is a day hike?
In truth, there is no set length for a day hike, though at some point, you'd obviously max out on the possible distance you can achieve in a day. It's common to think that day hiking is easy compared to long distance hiking, but that's not necessarily the case. Lots of stupendous day hikes are under five miles, but if you want to get to the summit of Longs Peak, a Colorado 14er, in a single day, you're looking at 17 miles roundtrip. The farthest I've ever hiked in a day was 23 miles along the West Highland Way, from Fort William down to Glen Coe. I've since decided that about 15 miles is my preferred maximum. Meanwhile, the intrepid adventurer Andrew Skurka famously covers about 33 miles in a day when he's completing his long distance journeys.
Suffice to say, then, that everyone's stamina and experience will determine how far they can hike in a single day, but once a hikes starts to get much more than 12 miles, you'll probably want to think about whether you can comfortably and safely complete it in a day, or if you need to split it up into two parts and camp. Of course, difficulty as well as distance plays into this decision – I hiked Longs Peak in a oner, but I camped on the way up Mount of the Holy Cross, which is only 12 miles, since it involves two ascents on the way to the summit. Camping in the valley after the first climb meant my summit day was shorter.
How to do a day hike
Assuming you're just getting started with day hiking, it's a good idea to find yourself some hiking buddies. Look for a local hiking group that you can join so that you can ease in and discover some trails safely while learning tips from more experienced walkers.
In terms of choosing a hiking trail, it's best to start with shorter routes that are closer to home and work your way up gradually to help build your fitness and sharpen your hiking skills. Use hiking guides and check details such as elevation gain and terrain as well as distance. When you've selected a trail that you feel you can comfortably tackle in a day, always follow these steps:
Make sure your footwear is well broken in before you wear it on a hike.
Get a good night's sleep the night before you leave so that you're well-rested and thinking clearly.
Check the weather in the area where you'll be hiking the morning of your hike using a reliable weather app. If there's severe weather in the forecast, change your plans.
Leave early to maximize your daylight hours.
Plan a strict turnaround time by which you'll head back, even if you haven't arrived at your intended destination (such as a mountain summit or waterfall).
Day hiking checklist
Because day hiking could really vary from urban hiking to backcountry escapades such as desert hiking, what you need will vary somewhat, but you should in general plan to have most of the following gear before you set off:
All the latest inspiration, tips and guides to help you plan your next Advnture!
Julia Clarke is a staff writer for Advnture.com and the author of the book Restorative Yoga for Beginners. She loves to explore mountains on foot, bike, skis and belay and then recover on the the yoga mat. Julia graduated with a degree in journalism in 2004 and spent eight years working as a radio presenter in Kansas City, Vermont, Boston and New York City before discovering the joys of the Rocky Mountains. She then detoured west to Colorado and enjoyed 11 years teaching yoga in Vail before returning to her hometown of Glasgow, Scotland in 2020 to focus on family and writing.