What not to wear on a hike
Avoid making bad wardrobe choices with our guide to what not to wear on the trail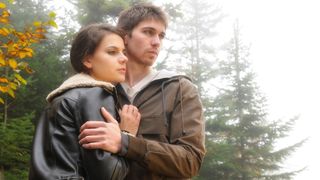 (Image credit: CreativeI)
When you're new to hiking, figuring out what to wear might seem like navigating your way through a minefield of different fabrics, footwear choices and types of hiking pants. There's a lot of advice out there and a myriad of options depending on the weather, season, distance you'll be hiking and conditions on the trail. One thing is for sure though, the hiking trail is a place to think about function over fashion, and some wardrobe choices are bad ones.
Read on for what not to wear hiking to avoid some common mistakes to make sure you stay comfortable on the trail.
1. Non-grip shoes
You might think that hiking means you have to wear clumpy hiking boots, but in fact there are lots of different footwear options for different conditions, while what you choose may also come down to a matter of preference. Boots, hiking shoes, approach shoes, trail running shoes and hiking sandals are all solid contenders, because they all have protective, grippy soles that help keep you upright when you're tackling steep slopes, wet grass, mud and ice.
What doesn't work, however, are shoes without good grip. That definitely rules out flip flops and most fashion shoes including Vans and Converse. Hiking in sneakers (AKA road running shoes) might work out ok if the terrain isn't too strenuous, but don't consider them viable for technical hikes.
While we're on the topic of footwear, steer clear of anything you haven't broken in yet and anything that doesn't afford you a bit of protection in case you bash your foot against a rock when you're scrambling.
2. Bulky clothing
If you're worried about getting cold on a hike, you'll be tempted to do what you'd do on a cold day in the city and pull on a bulky layer or two to fend off a chill, but temperature regulation becomes more delicate when you're hiking.
Even though you might be very cold at the trailhead, once you get moving, you're likely to warm up quickly, and a heavy parka will have you sweating away. You'll stop, remove your layer (which you'll then have to carry because it will be too bulky for your backpack), then instantly get chilled because you're wet and it's cold. Furthermore, bulky clothing like thick hoodies, sweatpants and jackets makes it difficult to move your arms and legs, which is a pain when you're scrambling or even just trying to get your backpack on and off.
Leave the bulk behind and dress in light, breathable layers that allow heat and moisture to escape, while providing insulation if it's cold. That means a moisture-wicking base layer, ideally made of merino wool, with a fleece jacket over the top and a waterproof jacket to protect you against the wind and rain. Everything should be packable enough to fit in your pack when you're not using it. Learn more in our article about hiking layers.
3. Stiff clothing
Very stiff and non-stretchy clothing that restricts your movements is best avoided. This could mean thick jeans, a waxed jacket, leather jacket or even shirts and cargo pants that don't have a lot of give. As usual, these might all be ok for the occasional saunter in the country, but when you start climbing you don't want anything that gets in the way of stepping and reaching up.
Not everything you wear has to be 20 percent elastane, but in general, seek hiking shirts, jackets and pants that aren't too thick or stiff, and ideally have a little stretch for the most comfort.
4. Too-tight clothes
With the exception of leggings, which are skin tight but still offer plenty of movement, you should avoid clothes that are too tight. Tight pants and shirts (and bra and underwear for that matter) can chafe, restrict your movements, tear when you're squeezing through tight spaces, while tight cuffs can cut off the circulation to your hands.
Forget about showing off your muscles and look for clothing that leaves a little room. That means you'll be able to move properly and be able to layer more clothing underneath if it's cold.
5. Loose, flappy clothing
On the other end of the spectrum, clothing that's too loose and flappy, like oversized T-shirts and sweatpants, can also be a hindrance on a hike. Really baggy clothing isn't as good at wicking sweat or regulating your temperature, and it can flap in the wind and snag on your hiking boots, crampons, rocks and low scrub which can be dangerous.
6. Regular bra
If you wear a bra, you'll probably be more comfortable hiking with some support, but don't pair a regular bra with a metal clasp at the back with a backpack as this can get really uncomfortable as the miles stack up. Also avoid cotton bras, since they cover a part of the body which is likely to get sweaty, and cotton will take ages to dry leaving you damp and potentially cold. Wear a sports bra for running instead.
7. Cotton
Though it's certainly frowned upon in the hiking community, cotton clothing like a T-shirt is probably ok to wear for a short hike in warm weather, though do be warned that it will get really damp and stay that way. Jeans and denim jackets are also made from cotton, and combined with the fact that they're also often stiff and bulky makes them less-than-ideal for hiking.
If the weather is going to be cool or colder than cool, you don't really want to get sweaty then stay outdoors in wet clothes, so it's best to stick with clothing made from merino wool and synthetic fabrics that wick moisture. In all weather, it's a good idea to avoid cotton socks since even when it's warm, wet socks mean rubbing and blisters, so if nothing else get yourself some proper hiking socks.
8. Clothes you don't want to get dirty
If you're going hiking for a first date or with anyone you want to impress, you might be tempted to style it out and go for hiking chic, wearing a cute flannel or figure-hugging leggings. Both of these options could be technically acceptable, but do remember that hiking often involves lots of mud and dirt, so it's probably a good idea to avoid wearing clothes that you really don't want to get stained, especially light-colored clothing and white hiking shoes, which are a silly invention.
9. Jewelry
Moving on from clothing, it's a good idea to leave your baubles at home when you're venturing into the wild. Fingers can swell making rings difficult to get off, necklaces and bracelets can get snagged or make it tricky to get your gloves on and off, and your treasures could easily get lost on the trail, never to be seen again.
10. Perfume
Worried about B.O. on a sweaty hike? Don't try to mask it with perfume, cologne or even a lot of smelly deodorant, as this can have the unwanted effect of attracting mosquitos, never mind impacting other hikers' experience who are out to get some fresh air.
Worry not – everyone is sweaty and smelly on the hiking trail and nobody cares. Wear a base layer or T-shirt and hiking socks made from merino wool to keep the stink factor down, and enjoy the smell of the wildflowers.
All the latest inspiration, tips and guides to help you plan your next Advnture!
Julia Clarke is a staff writer for Advnture.com and the author of the book Restorative Yoga for Beginners. She loves to explore mountains on foot, bike, skis and belay and then recover on the the yoga mat. Julia graduated with a degree in journalism in 2004 and spent eight years working as a radio presenter in Kansas City, Vermont, Boston and New York City before discovering the joys of the Rocky Mountains. She then detoured west to Colorado and enjoyed 11 years teaching yoga in Vail before returning to her hometown of Glasgow, Scotland in 2020 to focus on family and writing.