Is base camping better than backpacking?
Base camping means you can see more, carry less and explore other activities besides hiking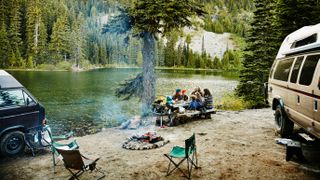 (Image credit: Thomas Barwick)
For someone who loves the outdoors as much as I do, it's difficult to imagine many things more wonderful than going backpacking. There's the excitement of planning the trip, the challenge of packing my backpack so it holds everything I need but isn't too heavy to lift, and the days and nights of walking, eating and sleeping under the stars, far away from crowds and pollution. But I'll admit, when I'm on a longer trip, moving house every day can get old. Breaking down my tent, stuffing my sleeping bag in its sack and rolling my sleeping pad back up after breakfast takes up a chunk of my morning, even with fast and light gear, and then when I get to my next camping spot, I have to set it all up again before I can relax. That's why my favorite mode of exploring the backcountry is by setting up a base camp.
Over the years, some of my best camping experiences have involved base camping, from long weekends car camping on the Roaring Fork River near Aspen where we could take off and hike 14ers like Castle Peak during the day, to desert camping in southern Utah and going canyoneering and hiking in the surrounding area, all of which I managed without having to move camp each day or carry everything on my back. Curious? Read on to learn more about base camping, and what's so awesome about it.
What is base camping?
When you go base camping, you establish a home base where you set up your tent and sleep system for several nights. You might hike into this campsite carrying your gear in your backpack, or you could drive in. Each morning, you set off from this camp to explore nearby hikes and other activities, either on foot or by driving to the trailhead, and each night you return back to camp, where you can whip out your camping stove and cook up a hearty meal after a long day of adventuring.
A base camp can be set up in the backcountry, on public land such as BLM land, or it can take place in paid, frontcountry campgrounds and National Parks. In fact, I've undertaken a spring pilgrimage to a campsite just outside Yosemite on the Merced River for the last six years and explored the amazing trails inside and outside the park each day. Another option is to camp along a long distance trail, which I've been doing more recently on the West Highland Way, where you can walk down the trail in one direction one day, the other direction the next, and then explore outwards from there. Basically, you want to find a spot from which you can explore lots of lovely trails.
What are the benefits of base camping?
Base camping has several key benefits over backpacking, from saving you time to a more comfortable camping experience.
1. It's less hassle
First, base camping releases you from the hassle of packing up your gear each morning, carrying it all on your back during the day, finding a new spot to camp and then pitching your tent again every evening. That saves you a lot of time so you can spend more time doing what you love – hiking. Additionally, the lack of a heavy backpack means you'll be able to move faster, which means you can hike further down the trail.
2. You can see more
When you're backpacking, you need to plan a route that's a circuit, or a point-to-point with a shuttle option or public transportation at either end, which somewhat limits what you're able to see, though what you do see can be spectacular. When you're base camping, you can head out in a different direction each day, kind of like spokes of a wheel, and see much more of the surrounding scenery. I spent many summers in Colorado camping near Leadville, from where you can easily hike any one of about a dozen 14ers with hardly any travel involved. Of course, you can simply hike in a few miles to any tranquil alpine lake and explore in different directions each day without dedicated trails, so long as you have a map and compass and know how to navigate.
3. You don't have to haul your gear
Then you've got the issue of gear. If you're hiking into your campsite, you're always going to be limited by how much you can carry, but if you find a base camp that isn't too far from the trailhead, you might be willing to carry more than you normally would if you know you're not going to have to hoist that backpack every day of your trip. That means you can bring your cushier sleeping pad, warmer sleeping bag and more grub. Of course, if you find a base camp you can drive to, you can load up the car with all your modern conveniences – a cooler full of food, an air mattress, camping coffee maker and a double-burner stove – and really experience the best of both worlds.
4. You can do other activities
Finally, base camping might free you up to do other activities besides just hiking. For example, you can bring your fishing rod and catch some trout, pack your trail running shoes or bring your mountain bike and hit the trails at a faster pace each day without being weighed down with all your gear, go rock climbing at a nearby crag or be able to take part in water sports like rafting and kayaking. Additionally, if it's not already obvious, it means you can go camping with a group and split up to enjoy different activities during the day, then come back together at night.
What makes a good base camp?
Truthfully, there's no right way to do base camping. If you're a minimalist hiker and just want to keep it light with the basics and find a great spot in the wild to return to each night and use the same fire ring, go for it. But if you're able to drive in, or it's just a short hike to get there, you might go for comfort. Find a campground with picnic tables or set up your own camp kitchen with a camping table and chairs. Hang a tarp or two so that you have shelter from the sun and the rain, and set up your camping chairs around the fire so you can kick back and watch the stars at night.
How long can you go base camping for?
Because you'll be camping in one spot for several nights, or longer, the main thing you need to find is how long you can camp there. Most places specify a maximum number of consecutive nights. For example, on BLM land in the US you are limited to 14 days in one area within any 28 day period and if you're wild camping in Scotland, you need to move on after three consecutive nights. These rules exist for the protection of the land and wildlife and also allow others to enjoy the land, so make sure you don't overstay your welcome.
All the latest inspiration, tips and guides to help you plan your next Advnture!
Julia Clarke is a staff writer for Advnture.com and the author of the book Restorative Yoga for Beginners. She loves to explore mountains on foot, bike, skis and belay and then recover on the the yoga mat. Julia graduated with a degree in journalism in 2004 and spent eight years working as a radio presenter in Kansas City, Vermont, Boston and New York City before discovering the joys of the Rocky Mountains. She then detoured west to Colorado and enjoyed 11 years teaching yoga in Vail before returning to her hometown of Glasgow, Scotland in 2020 to focus on family and writing.