Monster catch 1 oz off the UK crucian carp record!
Steve Scoltock came within 1 oz of the crucian carp record with this 4 lb 9 oz whopper.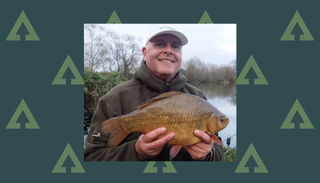 (Image credit: Angler's Mail)
Welcome to Advnture, the new home of AnglersMail.co.uk
The huge crucian fell to 58-year-old Steve when was fishing Godalming AS record water Johnsons Lake.
Michael James and Stephen Frapwell jointly hold the record with 4 lb 10 oz fish from the 21 acre venue in May 2015. But then the club introduced a Close Season to stop record-chasers catching overly spawn-bound fish. This break now runs from April 15 th to June 15 th inclusive.
But the big fish have grown in the last two years and a record could be on the cards in April either this year or next before they start to carry too much spawn.
Steve, from Binfield, Berkshire, said: "The fact that this fish is not full of spawn makes the weight even more remarkable and, if caught again before the lake closes then it could well beat the British record."
Feeder tactics fooled crucian
Feeder tactics, usually with Method feeder, have become popular by specialist anglers targeting crucians, and this worked for Steve's giant.
He explained: "It was caught using a 45 g Drennan in-line flat Method feeder packed with my own mix of groundbait and feed pellets plus crushed casters.
"The fish was hooked on a size 14 Drennan Wide Gape Specialist hook with a short braid hair and a fake caster.
"The photos were taken by another GAS member, Roy Whitwell who also confirmed the weight."
Steve continued: "I fished a day session from 9.30 am until 7.30 pm catching just three fish, all crucians with others of 2 lb 13 oz and 3 lb 8 oz.
"Another angler in the swim next said that he had caught a 4 lb 7 oz crucian the day before. I never imagined when told this that I would equal or even better it myself.
"My previous PB was a 3 lb 14 oz fish in 2014. As I did in 2014, I checked my Reuben Heaton digital scales when I got home and, as far as I can judge, found them to be accurate," he added.
Club latest: www.godalminganglingsociety.co.uk
All the latest inspiration, tips and guides to help you plan your next Advnture!