Canal carp record rocked with this giant
Carp veteran Bill Phillips came close to beating his own canal carp record.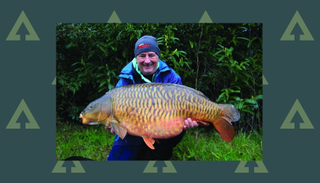 (Image credit: Angler's Mail)
Welcome to Advnture, the new home of AnglersMail.co.uk
The retired 67-year-old British Carp Study Group member, from Chippenham, Wiltshire, explained: "I returned from a six-week holiday in Thailand and was keen to get down to the canal and try to catch some late winter fish, so I started to put some bait in three times a week and intended to fish one night a week.
"The first night I did produced a 19 lb common that I was well pleased with as it was my first UK fish of 2016. When I arrived for my second night it was dark, raining and blowing a gale, so I quickly chucked the rods out along with around 50 free offerings.
"The wind and rain kept me awake all night but I had no action until 5.30am when a fidgety bream-like bite got me up, and pulling into it I cussed thinking it was a big old bream as it felt heavy but wasn't doing much. I then thought it might even be a polythene bag or other debris attached to the line, as can often be the case on this canal.
"As it came close I realised there must be a carp on the end as well as it took a bit of line, then I heaved it up and was shocked to see no debris, just a big flank which I recognised. After that I took it easy as she plodded around for a few minutes until she rolled into the net," he said.
Giant that has reached 47 lb 2 oz before
Bill is no stranger to canal carp, and his giant as the same fish he had at 47 lb 2 oz back in June 2014. It's is believed no bigger carp has ever been caught from the British canal.
"Thoughts of her being 50 lb raced through my head, but in no way was I disappointed with the weight and I called Rob Hughes (England carp team manager) down to take some photos as I knew he wanted to see her. Whilst he was on his way I had another take and a 22 lb 8 oz carp," he added.
Rob was hugely impressed, and said: "It's a stunning creature and one that I'm sure almost everyone in the country would love to catch. Seeing it in the flesh was amazing. It truly is a stunner."
All the latest inspiration, tips and guides to help you plan your next Advnture!
Running from 1964 until 2020, Angler's Mail was the UK's leading weekly magazine devoted to coarse fishing, telling readers everything they needed to know about which fish to catch, where to catch them, and what kit they needed to do it. Now, loads of the magazine's expert advice can be found on Advnture.com, as a helpful resource for angling newcomers and experts alike.