Lockdown fishing licences still sold despite angling ban
Environment Agency won't offer extensions or rebates on rod licenses during lockdown.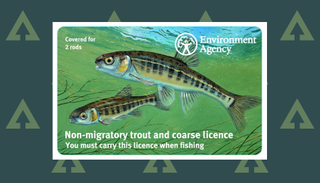 (Image credit: Angler's Mail)
Welcome to Advnture, the new home of AnglersMail.co.uk
Lockdown fishing is a 'no go' …but the government agency is still selling rod licences.
An EA spokesperson said: "Government guidance is clear. Stay at home, only go outside for food, health reasons or work (but only if you cannot work from home) and do not meet others, even friends or family.
"Therefore, anglers are advised not to go fishing, to ensure the safety of people and the angling community.
"Recreational fisheries businesses are also advised that they are subject to regulations, meaning they must close."
Lockdown fishing stance of EA
The EA also said that they won't physically stop or challenge anglers engaging in 'lockdown fishing' with a valid rod licence on lakes or canals that are normally open in the spring.
Already, in various parts of the country, anglers who flouted the advice to not go fishing have been told by Police to pack up. A few have been even fined when making a non-essential journey to fish, too. And Police have been quick, via social media, to broadcast brief reports of their enforcement efforts.
A background briefing from the EA confirmed: "Any activity conducted in breach of the social distancing regulations, including fishing, would be a Police matter.
"Fishing licences remain on sale. At present we are not currently offering a refund on licences or changes to the time limit.
"All options for fishing licences remain under review, and we will communicate with customers should there be any change to the fishing licensing scheme.
"We will continue to review the situation in light of further advice from government, and will update customers accordingly.
"In the meantime, we'd remind people to check the government's guidance at ww.gov.uk/coronavirus and contact us if they have further questions about how this applies to inland fisheries.
"The EA continues to enforce the current fisheries regulations, such as fishing without a licence or fishing in the Close Season on waters where the Close Season applies.
"Enforcement will be subject to relevant social distancing measures," the briefing concluded.
Anglers likely to lose on licences
The lockdown fishing news that the EA hasn't been considering a rod licence extension or rebate has shocked many anglers.
Angler John Botwood summed up the mood of many recent licence purchasers: "We all agree that the coronavirus is a terrible thing, and are all doing our best to combat it by staying at home.
"However, life does go on, and I am more than a little miffed that I'd just pre-ordered my fishing licence, as I always do with a start date of April 1, due therefore to end on March 31, 2021.
"It is very unlikely that I will be on the banks, which the EA have deemed closed, until September. That will be losing almost half of my year of possible usage.
"They should offer an additional five or six months extension on the expiry date of licences, to compensate the millions of anglers affected," added John.
All the latest inspiration, tips and guides to help you plan your next Advnture!
Running from 1964 until 2020, Angler's Mail was the UK's leading weekly magazine devoted to coarse fishing, telling readers everything they needed to know about which fish to catch, where to catch them, and what kit they needed to do it. Now, loads of the magazine's expert advice can be found on Advnture.com, as a helpful resource for angling newcomers and experts alike.