World fishing championship venue under threat from poachers
Police have successfully apprehended two men illegally fishing at one of the country's most iconic river stretches, the Warwickshire Avon at Luddington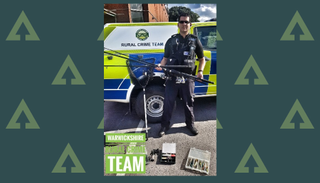 (Image credit: Angler's Mail)
Welcome to Advnture, the new home of AnglersMail.co.uk
This is one of just two English venues that have ever hosted the full main World Championship, back in 1981, when Leeds float legend Dave Thomas won individual Gold.
Two officers were on night patrol near the river when they responded to a request for assistance with catching three men suspiciously fishing at the venue, controlled by Stratford upon Avon AA.
PC Andy Stevenson explained: "PC Craig Purcell and I were recently out patrolling the Bidford-on-Avon area in the early hours when we heard over the radio that response officers had located three people fishing on the River Avon near Luddington.
"As the officers approached, one male decided he didn't fancy hanging around, so jumped in the river to get away.
"We attended to assist in a search for the male and utilised our 4x4 capability to access areas others couldn't.
"We spotted a suspicious car with two males in it nearby, and on stopping the car determined that they had been fishing in a private 
members-only area.
"Neither of them had a current rod licence or permission to be fishing the area. We reported the males for offences that will result in a future court date, and to prevent further illegal fishing we seized their equipment, as shown in the picture. A forfeiture request will be made to Magistrates when the court date arrives.
"Unfortunately, the third male wasn't located, but signs were found that someone had exited the river slightly downstream… someone had a very wet and cold walk home.
"We will continue to work with the Environment Agency and Angling Trust on these issues to help legitimate anglers.
"Operation Leviathan is a national multi-agency operation to prevent, detect and prosecute those illegally fishing that Warwickshire Police are proud to support."
Stratford upon Avon AA has been experiencing a number of problems with poaching in recent years.
Chairman Mal Hallows commented: "Unfortunately, [poachers] will take and eat everything and anything nowadays. Initially, it seemed to be mainly pike and zander, which in fact for a while helped improve silver fish stocks, but now all species appear to be fair game.
"It's often problematic confronting the offenders, who always come up with excuses like they think it's free fishing or taking any number of fish from the river to eat is allowable. We have found them with as many as six rods each.
"Nets have been discovered, and during the lockdown in May, we even found one with floats on going all the way across the river at Seven Meadows," Mal added.
All the latest inspiration, tips and guides to help you plan your next Advnture!
Running from 1964 until 2020, Angler's Mail was the UK's leading weekly magazine devoted to coarse fishing, telling readers everything they needed to know about which fish to catch, where to catch them, and what kit they needed to do it. Now, loads of the magazine's expert advice can be found on Advnture.com, as a helpful resource for angling newcomers and experts alike.