4 reasons why you need to go on a hiking retreat this year
Hiking retreats take all the planning out of things so you can relax and enjoy good company, new hiking trails and a total immersion into nature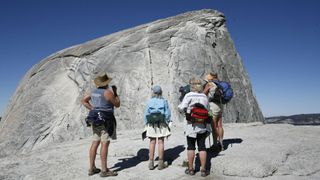 (Image credit: San Francisco Chronicle/Hearst Newspapers via Getty Images / Contributor)
Climbing up the path of the Mist Trail in Yosemite National Park, me and my seven comrades are breathing heavily. We've taken several breaks to enjoy the views of tumbling Vernal Falls from further downstream as well as splendid panoramas across Yosemite Valley on the way, but for one of the most popular hikes in the park, it's unrelentingly steep even for the seasoned hiker, and the temperatures today are in the 80s which isn't helping.
A couple of the hikers in our group of eight are starting to trail behind and make noises about turning back, even though the roar of the thundering falls is now deafening. I hang back until they catch up, smile encouragingly and let them know that just around the corner is one of the most incredible things they'll ever see. They reluctantly agree to press on, following me up the stone steps where suddenly we're standing in the full spray of the falls. A giant rainbow is so close that we feel we could stretch out and touch it. The grumbling and resistance dissolves into the mist and is replaced with squeals of delight at what is undoubtedly one of the most spectacular sights in a park of so many.
Taking people on this hike is one of my favorite parts of leading my hiking retreat in Yosemite. The trail is challenging enough to test the seasoned hiker, but the path is well-maintained for newcomers, while the views are enough to spur on even the most reticent. It's exactly what I want for a hiking retreat where I may have people of varying ages, abilities and experience levels, and it's what makes these retreats so rewarding.
Why go on a hiking retreat?
A hiking retreat sounds great in theory, but isn't it also pricey? And couldn't you just go on a hike on your own, for free? Well, sometimes they're expensive, and yes, you can hike alone, but there are some things you'll get out of a hiking retreat that will be harder to come by off your own back. Let's take a look at some of the best reasons to make sure a hiking retreat is on your agenda this year.
1. You'll be in good company
Though I can't promise that everyone you meet on a hiking retreat will be your soulmate, generally speaking the people who have attended mine have been kindred spirits who are interested in the same things as you and I: meeting others, hiking, nature and a little adventure. Certainly, the group dynamic can provide some interesting challenges, whether that's individuals that want to turn the experience into more of a party vibe than you'd bargained for, or more novice hikers who are overly concerned about things such as getting dirty and the elements. However, if you were to make a Venn diagram of everyone who's attended my retreats, they're largely up for anything in terms of adventure and laid back in terms of itinerary – just what you want, really.
In addition to the guide keeping an eye out for you, the bond tends to form very quickly among the participants who are very supportive of each other, regardless of experience and ability. The folks who are looking for five star luxury retreats are usually already on a yoga retreat in Mexico, I promise.
2. It takes all the planning out of things
The great thing about signing up for a hiking retreat rather than planning your own trip is that most of the organization is done for you. On my retreats, I'll tell participants exactly what airports they can fly into, where the campground is, what time they need to get there and what they need to bring. Once they arrive, they don't have to think about a single thing for five days. Breakfast is ready when they wake up, packed lunches are laid out to put in their backpacks, the hikes are planned in advance and dinner is waiting for us when we get back to camp. This really does give your brain and nervous system a rest from planning, and it frees up a lot of time that you might spend poring over guidebooks to just enjoy the scenery.
3. It encourages you to experience new trails
In tandem with the last point, the nature of guided hiking encourages you to explore new places and see new sights. You may not have a hiking partner at home and might not feel up for exploring a National Park or wilderness area alone, but if you know you're going to be welcomed into the fold of a supportive group when you get there, it takes a lot of the fear factor out of things. If you're planning your own itinerary, you might just go for all the most popular hikes which are easy to find and possibly easy to hike, but a hiking retreat can get you off the beaten track a bit and help you discover some hidden gems.
4. You can totally immerse yourself in nature
All hikes take place in a natural environment, yes, but that doesn't mean you always get to really marinade there. On a day hike, you've got to get back to the trailhead before dark and even on a weekend backpacking trip, you're back in front of your screens after a couple of days. Hiking retreats tend to be a bit longer, as in 3 - 5 days, and in my retreats we do everything in the open air: sleeping in tents, eating all of our meals at the campsite and even practicing yoga by the river to recover from all that hiking.
The chances are that you'll have a more focused, prolonged experience communing with nature, and there may be practices involved such as yoga, meditation, nature journaling and mindfulness techniques to help you connect to your surroundings more deeply.
What do you need for a hiking retreat?
Just because a hiking retreat takes a lot of the work out of things, it doesn't mean there aren't a few items you need to check off your list before you go. Here's what you need to do to make sure you have the adventure of a lifetime, and make it home in one piece.
1. An experienced and qualified guide
First things first, don't just Google "hiking retreats'' and sign up for the one with the nicest stock imagery or the flashiest website. A bit like ecotherapy, there are lots of people out there who are offering hiking retreats that they're not really prepared or qualified to be leading. In fact, in December of 2022, a hiking guide was found guilty after leading 31 people on a cliffside expedition that resulted in one man's death.
Ideally, you want a person who knows the area well, has navigation skills and hiking first aid training. In my case, I teamed up with an amazing organization in Yosemite called Balanced Rock, who organized my itinerary and we only ever hike on frontcountry trails. If you're going into the backcountry, you need to make sure that the person who is leading you is a qualified mountain guide, and has obtained the appropriate permits. Not doing this could be deadly.
2. Fitness
One of the top mistakes I see people making when they sign up for a hiking retreat is that they do so with the intention of getting fit. Now, after hiking every day for five days, you'll definitely be fitter than when you started, but it's really important that you get in shape for hiking in the months before you go. Even though the hikes should suit the abilities of the group, it's hard to choose a hike for someone who isn't really in shape for any level of hiking.
If you are able to hike near your home, start doing that a couple of times a week, and if you're restricted to a gym, consider alternating regular jogging with climbing on the Stairmaster and working out with a trainer to get your legs a bit stronger. You may still have to deal with the effects of altitude when you arrive, but if you show up with strong legs and conditioned lungs, you'll be in good shape to join in on most hikes. Arrive out of shape and it really might not be a very fun experience. Don't hike to get in shape, get in shape to go hiking.
3. The right gear
Getting in shape is half the battle, but another factor that will hugely impact your comfort levels is having the right gear. If you're a regular hiker, this will be no problem, but if you're starting from scratch, it can all be a bit overwhelming. Make sure you communicate with your guide well in advance to understand what types of conditions you might be expecting and what gear you need to bring. Don't be afraid to ask them questions regarding types of gear, such as whether you should bring a synthetic or down sleeping bag or jacket, and whether boots or shoes are best. They're the expert, so they'll be able to answer any questions.
Just to get you started, here's the gear list I send to my participants:
All the latest inspiration, tips and guides to help you plan your next Advnture!
Julia Clarke is a staff writer for Advnture.com and the author of the book Restorative Yoga for Beginners. She loves to explore mountains on foot, bike, skis and belay and then recover on the the yoga mat. Julia graduated with a degree in journalism in 2004 and spent eight years working as a radio presenter in Kansas City, Vermont, Boston and New York City before discovering the joys of the Rocky Mountains. She then detoured west to Colorado and enjoyed 11 years teaching yoga in Vail before returning to her hometown of Glasgow, Scotland in 2020 to focus on family and writing.