What should you pack in your running vest?
Running vests are all the rage, but what do you put in them anyway? And do you even need one?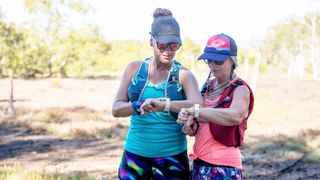 (Image credit: Getty)
These days, it's hard to walk down a city street, never mind a mountain trail, without spotting a runner in a vest. The running vest, also known as a hydration pack, is a snug-fitting garment that carries water and gear and definitely sends a signal that you are a serious runner – you're not just going for a casual jog, you're setting off on an adventure.
But do you have to be a serious runner to wear a vest? And what goes in it anyway? If you're new to running, you may be asking yourself these very questions. After all, you probably love the fact that running is all about lacing up your trail running shoes and heading out the door, not loading up with multiple kilos worth of gear. In this article, we examine when you might need a running vest, and what to put in it.
Do you need a running vest?
First off, just because you're a runner doesn't necessarily mean you need a running vest – in a lot of scenarios, it's an accessory rather than an essential. If you're heading out for an hour or less, and you're close to home, you won't usually need to carry water (unless you're running in extreme heat) or snacks or extra clothing.
That said, running vests aren't only the domain of ultra runners either. I don't typically run for much longer than an hour and I'm usually quite happy to just stash my house keys and phone in the thigh pockets of my running leggings, but if I'm using public transport to reach the trails, it means I'm out of the house for several hours. In those instances, I do wear my Aonijie Wind Tracker vest to carry my water, keys, credit card and phone. My running jacket doesn't have any pockets and when it's cold out, my vest also adds a layer of protection against the wind that I quite like.
If you prefer running in shorts, which have less storage capacity, find a running jacket too warm or don't like the feeling of things bouncing around in your jacket pockets, you also might want a running vest for any distance. Basically, a hydration vest can be a handy way to store items that doesn't interfere with your running the way a backpack can and there's no set distance that you need to run in order to consider one.
What should you pack in your running vest?
Now that we've established that you can wear a running vest for any distance or type of run you like, it should be evident that you can pack whatever you like in it. However, if you're setting off on a long backcountry trail run, below are the items you'll want to pack in your vest, which should have multiple stretchy pockets and hold more gear than its appearance suggests.
Many of these items will never come out of your vest, but if you end up out on the trail longer than planned, the weather changes (which happens much more dramatically at altitude) or you get injured, you'll be happy to have them.
Gloves: When it's cold out, you might already be wearing a pair of lightweight synthetic or wool running gloves, but it can be smart to also pack a burlier pair of insulated waterproof gloves to protect your paws against a blizzard.
Neck gaiter: A neck gaiter is lightweight but has multiple uses, from shielding your face and neck from an icy wind to serving as a running headband.
Hat: Carry a wool beanie hat to protect your head if the temperatures drop or you have to stop.
Base layer: When you run, you get hot and sweaty but when you stop, you're cold and wet quickly. For long adventures, carry an extra long sleeved base layer that you can change into if you get lost or injured to reduce your risk of cold weather conditions like hypothermia.
Waterproof jacket: A lightweight, breathable waterproof jacket can be worn while running in inclement conditions, and can be pulled on as an extra layer of protection if you find yourself waiting out a storm.
Headlamp: Packing a headlamp when you're setting off at 7 a.m. can seem like overkill, but if things don't go to plan, you don't want to be caught out without a light source or burn up your phone's battery using the flashlight. Any headlamp will do, but if you get a running headlamp you can use it for night running too.
Water: Obviously, the main purpose of a running vest is to carry water and that's exactly what you should use it for if you're going out for more than an hour. Most running vests will have pockets for either a hydration bladder or soft water bottles for running, so you can pick your preference. If you really don't like the sloshing and you know there are lots of water sources on the trail, carry a LifeStraw for health and safety.
Snacks: You don't need to go nuts with carrying food unless you're planning on an ultra run, but it's a good idea to always have a couple of running gels for emergencies. They don't weigh a thing and can provide you with a boost if you bonk, stabilize you if you're suffering from shock and help keep your spirits and energy levels up if you're out all night.
First aid kit: A running first aid kit should have everything from blister pads to an emergency blanket and whistle and should always come with you in the backcountry.
Navigation: Chances are you use your phone and GPS watch as your primary navigation devices, and that's fine, but do bring backup tools that don't rely on a battery, such as a paper map and lightweight compass. If you are relying solely on your phone, bring a solar charger.
Communication: Learn how to keep your phone charged on the trail in case you need to call for help, and for backcountry adventures, remember your phone may be basically useless so consider a satellite communicator device such as the Garmin InReach which relies on GPS and helps you communicate with mountain rescue if needed.
All the latest inspiration, tips and guides to help you plan your next Advnture!
Julia Clarke is a staff writer for Advnture.com and the author of the book Restorative Yoga for Beginners. She loves to explore mountains on foot, bike, skis and belay and then recover on the the yoga mat. Julia graduated with a degree in journalism in 2004 and spent eight years working as a radio presenter in Kansas City, Vermont, Boston and New York City before discovering the joys of the Rocky Mountains. She then detoured west to Colorado and enjoyed 11 years teaching yoga in Vail before returning to her hometown of Glasgow, Scotland in 2020 to focus on family and writing.