Tortoise, hare, maestro, meanderthal – which type of hiker are you?
Identify what type of hiker you are to figure out what gear and expertise you need and avoid disastrous hiking dates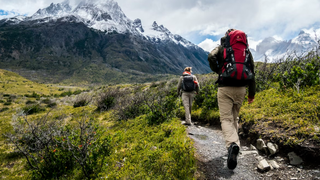 (Image credit: Unsplash)
What type of hiker are you? It's a question that we don't usually ask someone when arranging to meet for a hike. Usually, you're just excited to meet someone else who likes to get out there. But once you get out on the trail with a new hiking buddy, you sometimes discover you're highly incompatible.
I naturally move quite fast, and I can get chilled if I have to slow it down to accommodate a friend who likes to take breaks. I'll still hike with that person, but I know now that I need to bring extra clothing like a down jacket. My boyfriend nearly lost a good friendship because he'd show up for hikes with a few crackers and a half-eaten salami to share, while his friend would bring a gourmet picnic and expect Jim to do the same. Different strokes for different folks.
There's no right way to hike, except for the safe way, and that's part of what makes hiking so wonderful. Whether you're fast or slow, organized or adventurous, you can enjoy hiking at a relatively low cost. But over my years on the trail, I've observed that there are definitely several distinct categories of hiker and I think it is helpful to know what type of hiker you are. Not only does it help you find compatible hiking buddies and avoid disastrous hiking dates, you can figure out what type of gear or expertise you might need for success and to have fun. So with that in mind, read on and see if you can identify what type of hiker you are.
The tortoise
Your approach to hiking is slow and steady. You take at least 20 minutes at the trailhead lacing up your hiking boots and adjusting your trekking poles and once on the trail, you're happy to plod along while other hikers zoom past you. ou're not afraid to take breaks – after all, what's the point in getting out into nature if you're not going to take it all in? As a slow hiker, hiking for you is about the journey, and in fact you often don't reach the destination but that's no problem. So long as you find a great spot for lunch, you consider the day a roaring success.
Make sure you have a good hiking flask that you can fill with soup, tea or hot chocolates for those breaks and we recommend carrying a headlamp in your backpack just in case you don't quite make it back to the trailhead before it gets dark.
The hare
You're one of those hikers who race past the tortoises on the trail, taking no prisoners and certainly no rest breaks in your relentless pursuit of speed. You're fit and you prefer to hike alone – other people just slow you down. Moving fast makes you feel light and free. You hit start on your GPS watch the minute you leave the trailhead because you like to know how long each hike takes you, down to the minute. You might stop for five minutes at the summit to enjoy the views (and pause your watch so it doesn't mess up your average pace) and pride yourself on being able to bag a 14er or a Munro before lunch.
To help you move briskly on the trail, ditch the heavy old hiking boots and try some lightweight trail running shoes instead, such as the Dynafit Alpine. In fact, have you thought about upping the pace even more and trying fastpacking?
The maestro
Being an expert hiker has nothing to do with speed – you can go fast or slow to meet the needs of the people you're with and while you're more than up for a challenging hike, the joy for you is all in the organization. You may have been a scout in your youth and are probably a good candidate for joining mountain rescue. You never head out into the backcountry without a map and compass and an emergency bivy sack and you're not likely to end up as an embarrassing headline because you went hiking in tennis shoes.
You're practical, competent and perhaps a little old school – you know how to read a map and even have some bushcraft skills. There's probably not much gear that you don't already have, since you wouldn't be caught dead on a hill without the 10 essentials, but you'll enjoy these 20 hiking facts and can impress your friends with them on your next adventure.
The meanderthal
You live in the moment and go where the winds blow you. You never set off with a plan or a destination in mind. Hiking trails are more of a suggestion than a rule to be followed – after all, if you hear the distant rushing of a secret waterfall or see a roe deer scampering off into the woods, you're going to want to follow it. True joy is to be found off the beaten path and as far as you're concerned, the best adventure is the one that isn't planned.
If you wore a GPS watch – and you certainly do not – your route when you got back to the trailhead would look like a five-year-old scribbled all over a topo map with a red crayon. Your lack of adherence to trails and planning mean you should probably invest in a good compass and know how to use it with a map to take a bearing just in case following your nose ever doesn't work out.
The adrenalin junkie
You probably move as fast as the hare, but rather than mere efficiency, you're always on the lookout for excitement. Type 2 fun is the only type of fun you're interested in and you love technical hikes that involve a bit of scrambling, hair-raising ridges and perhaps even a bit of cliff diving or scree running. You don't consider any type of weather to be bad for hiking.
You don't exactly have a death wish, you just don't really view risk as a reason not to do things. Minor inconveniences like medical bills are of no consequence to you and it's possible you have a trust fund, but regardless, you're one to seize the day. Check out Colorado's most dangerous 14ers and Half Dome as hikes to check off your bucket list and do us a favor and at least carry a helmet.
The part-timer
Last, but certainly not least, you might be the most common type of hiker out there. You hike occasionally, when it suits you and the weather is nice. You choose from two or three popular, well-marked trails that aren't too challenging and are close to home. You hike with friends and it's as much about the social aspect as it is the actual hike. You don't live for hiking, but that certainly doesn't mean you don't deserve a spot on the trail.
You're happy to get out there in your leggings and favorite T-shirt and even though your road running shoes are probably ample for the types of trails you usually tackle, we can't help but recommend you get some more rugged footwear like a pair of hiking shoes to give you some better grip and to protect your feet against stubbed toes. Oh, and trust us on this one – ditch your old school bookbag for a proper hiking daypack that has a hip belt and a breathable mesh back panel – you'll be far more comfortable.
All the latest inspiration, tips and guides to help you plan your next Advnture!
Julia Clarke is a staff writer for Advnture.com and the author of the book Restorative Yoga for Beginners. She loves to explore mountains on foot, bike, skis and belay and then recover on the the yoga mat. Julia graduated with a degree in journalism in 2004 and spent eight years working as a radio presenter in Kansas City, Vermont, Boston and New York City before discovering the joys of the Rocky Mountains. She then detoured west to Colorado and enjoyed 11 years teaching yoga in Vail before returning to her hometown of Glasgow, Scotland in 2020 to focus on family and writing.