How to avoid summer crowds on the hiking trails
With our 11 tips for how to avoid summer crowds on the hiking trails you can be patrolling the backcountry all summer long without standing in line to reach the summit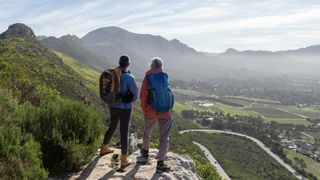 (Image credit: Getty)
Hiking season never ends, but summer is one of the best times to get out there. The days are endless, the weather is perfect and you've got annual leave stored up to take off. So on your first day off, you lace up your hiking boots and drive to the trailhead full of beans, but your heart sinks when you see dozens of cars already parked there. Your hike up involves traipsing behind families waiting for a passing place, a summit overrun with selfie-takers and having to step aside every few minutes on your descent to let uphill climbers have the right of way. And let's hope you don't encounter hikers playing music on the trail.
Yes, these are Privileged People problems and of course you can still enjoy a great day in the outdoors when there are others around doing the same thing, but if we're being honest, most of us take to the hiking trails to get away from hoards of people. The good news is that you definitely don't have to find a new summer activity – in fact, after living in a busy tourist resort in the Rocky Mountains for 11 years, I became a bit of an expert at giving the crowds a wide berth and still hiking every day. With our 11 tips for how to avoid summer crowds on the hiking trails you can be patrolling the backcountry all summer long without standing in line to reach the summit.
1. Skip weekends and holidays
If you're feeling down in the dumps about working weekends when all your friends are off, don't. Weekend warriors are the ones who have to contend with congested trails while Monday through Thursday can be idyllic.
Obviously, this one can seem easier said than done, since if you're looking for a four-hour or longer chunk of time, weekends and holidays are probably your best bet if you work regular hours, but everyone else with a nine-to-five has the same idea. Weekends and holidays like Memorial Day, 4th of July and Labor Day are the times when most people take to the trails, so if you can work flexible hours or take some leave during the week, you'll find the trails are much quieter.
If you want to do a lot of weekday hiking and still want to keep your job, you might need to get a little creative here however, so read on for the next tip.
2. Go early (or late)
In my experience, even the most popular trails don't get crowded until mid-morning. When I lived in Vail, I could count on most in-demand trails like Berrypicker up the front of Vail Mountain to be jammed by about 10:30 a.m. but virtually all of that traffic was from tourists, who'd usually enjoyed a lie in and a long breakfast since they were on holiday.
Summer season means the days are stretched out and you can easily be hiking by 6 a.m. and potentially back to the trailhead before most people are getting started. This also helps you to beat the midday heat. Another option is to wait until around 3 p.m. or 4 p.m., which particularly in northern latitudes still leaves you loads of daylight. Just remember to bring your headlamp in case you end up misjudging sunset, and know that wildlife is often most active at dawn and dusk so in certain locations you'll need to know what to do if you meet a bear or mountain lion on the trail.
3. Sidestep the popular trails
It's true that the most popular trails such as Angels Landing in Zion National Park and the Mist Trail in Yosemite are often really beautiful and worth seeing, but that's not the only reason they get the biggest crowds. Popular trails may be busy because they're easy to get to, well-maintained or aren't too long or challenging.
Meanwhile, unpopular or little-known trails can be absolutely stunning, but a little deeper into the backcountry, longer and more technical, which keeps certain hikers away. One of my best hiking experiences was to lovely Strawberry Lake in Montana, which is at least as beautiful as any alpine lake in the Rockies and I never saw another person on it in the middle of August.
If a trail is famous or requires a permit to hike, it's probably going to be busy. Save the well-known hikes for off-season and get a little off the beaten track and you'll be amazed at what you can see in solitude.
4. Tackle more challenging trails
As I mentioned in the last point, easier hiking trails draw bigger crowds because they're more accessible to people of all ages and abilities. That's a wonderful thing, but if you have the hiking skills and abilities to tackle more challenging routes, you're practically guaranteed to have them to yourself.
Another tip here – oftentimes the first two miles of a pretty hike will be congested and then the crowds thin out. A great example of this is Booth Falls just outside of Vail, which is heavily populated for the first couple of miles in the summer with people wanting to see the falls. But keep going from there another three miles and you'll rarely see a soul on your way to Booth Lake.
5. Take to the National Forests and Wilderness Areas
It's no secret that National Parks are busy and getting busier. They're stupendously beautiful and well set up for visitors with well-marked trailheads and well-maintained trails plus visitors centers, toilets and other conveniences. Yes, you can visit the least crowded National Parks, but consider National Forests and Wilderness Areas instead. These beautiful areas often surround National Parks and offer similar landscapes but because they have less in the way of amenities aren't as busy.
6. Weatherproof yourself
Obviously there are exceptions to this, such as when there's a risk of lightning and you're above treeline, but if you're not too afraid of the weather, you can get out there on rainy days. Lots of hikers prefer to wait for bluebird days to hike, so if you suit up with a waterproof jacket, rain pants, proper hiking boots and a rain cover for your backpack, you can still have an excellent time out in the hills.
The viewpoints might not be as dazzling, but the clouds and mist can be atmospheric and the cooler weather can be more pleasant, and you still get moving and enjoy the greenery which really pops when it's raining.
Pack some extra dry clothing and dress in breathable layers as always for a rainy hike, plus make sure you have a map and compass in case visibility is decreased. Obviously, you should check the weather forecast before you leave with a reliable weather app and make sure you're not putting yourself at risk of high winds, flooding, rockslides or lightning.
7. Pitch a tent
Because day hiking is by far the most common way to explore hiking trails, you can get quite a bit of alone time out there if you're willing to spend the night. Backpacking means you can go further into the backcountry which always means fewer crowds, while pitching your tent as a base camp and hiking out in different directions early in the morning means you can travel light before it gets busy.
8. Take the back entrance
Lots of mountains have multiple routes to the top, and almost always, there will be a most popular route and then several less popular trails that may be more difficult, harder to reach or just less well-defined. If you're hiking a 14er for the first time, you should stick to the most popular route, but once you're a little more experienced, consider attempting a different pathway. The summit might still be crowded, but you'll have much more personal space on your ascent and descent.
9. Pimp your ride
Speaking of alternate routes, these trailheads are often more difficult to reach and as I've learned, it's all much easier if you have a high clearance vehicle with four wheel drive to get you there. Not only can that get you to a trailhead that hikers driving Saabs can't reach, but it can even shave some mileage off your hike – when I hiked Colorado's Mount Massive, I'd have had a 14-mile day ahead of me if I'd used my Ford Focus, but instead we traveled in my friend's Four Runner and shaved a full seven miles off our hike as well as enjoying a quiet trail.
10. Get a guidebook
They might seem a little old fashioned in the world of navigation apps, but a good old fashioned hiking guidebook can probably give you some insider information into lots of hidden gems. Of course, such books can get out of date – I once tried to find a hike that started at a fountain which, it turned out, had been moved to the other end of town – so look for a more recent version to avoid disappointment.
11. Learn navigation
Finally, one way to get off the bustling trails is to get off the trails altogether. Take some mountain safety classes and get to grips with using a map and compass and you could pick a mountain and head up it on your own, without a trail. You'd need to be confident in your skills to avoid getting lost and be ready for bushwhacking, but people did hike before we had trails.
All the latest inspiration, tips and guides to help you plan your next Advnture!
Julia Clarke is a staff writer for Advnture.com and the author of the book Restorative Yoga for Beginners. She loves to explore mountains on foot, bike, skis and belay and then recover on the the yoga mat. Julia graduated with a degree in journalism in 2004 and spent eight years working as a radio presenter in Kansas City, Vermont, Boston and New York City before discovering the joys of the Rocky Mountains. She then detoured west to Colorado and enjoyed 11 years teaching yoga in Vail before returning to her hometown of Glasgow, Scotland in 2020 to focus on family and writing.