What is a daypack?
A daypack is a vital piece of hiking gear, and your old school bag won't cut it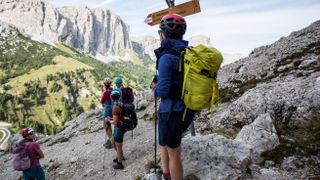 (Image credit: Jessie Leong)
Just getting started with hiking? There's a lot to learn, considering the entire activity involves putting on a pair of hiking boots and walking on two feet. You need to know how to dress in hiking layers and start to get to grips with navigation. Then there's all the gear, like a first aid kit, compass, waterproof jacket and rain pants that apparently need to be packed in a daypack – but what even is a daypack? Don't worry, I hadn't heard this term before I started hiking either, but now I wouldn't hit the trail without one. If you're a bit baffled, we'll explain all in this article, and help you get ready for your first mountain adventure.
What is the difference between a backpack and a daypack?
A daypack for hiking is a backpack, it's just smaller. If you've watched any of the great hiking movies like Wild, which tells the true story of one woman's adventure on the Pacific Crest Trail, you might know that setting off on a long walk requires a giant backpack.
A backpack for an overnight hike, whether that's a short backpacking trip or a thru-hike, will have a sturdy frame, adjustable straps that fasten across your hips and chest, and might be as big as 65 or 70 liters to hold camping equipment like your tent and sleeping bag.
A daypack has a lot of these same or similar features, only it's much smaller, usually only around 18 - 32 liters. Well, wait, you might be thinking, I've got an old 25 liter JanSport backpack still kicking around from college, can't I just use that for a hike?
Well, you can, but I've tested it out and I really don't recommend it. Here's why: when you're on a day hike, you might not be carrying sleeping equipment or a camping stove, but you still have to carry a fair amount of gear, which we'll cover below. A regular book bag won't have those chest and shoulder straps that keep the weight of your bag close to your body and help to transfer the weight off your shoulders and onto your hips. That means that, pretty soon after you leave the trailhead, your shoulders are going to start to hurt, and when the trail gets narrow and precarious, your backpack might slow you down.
Basically, regular backpacks aren't well-designed for carrying heavy loads long distances. You probably didn't notice it in college when you were just toting books from class to class, but trust us, you'll notice it on the trail. Book bags also usually lack sufficient padding to protect your back from hard water bottles and trekking poles, as well as handy loops and mesh pockets for carrying extra gear, or weather protection.
A good daypack, however, like my Osprey Talon 22, will have a well-ventilated padded back that allows some airflow when you get sweaty, adjustable straps and it will contour to your body so the load is as close to your back as possible. It won't usually be totally waterproof, but it will be water-resistant, protecting your gear and lunch in a shower, and it will have extra pockets that are designed to carry hiking gear like water bottles and keep small items handy. Basically, when I'm hiking in my Talon 22, I can scramble and even run sections of the trail without noticing my bag is there.
What do you put in a daypack?
If you're only planning on hiking for a couple of hours, or you live in an arid climate where you never need rain gear, you might be thinking you can get away with just throwing a snack and your water in a drawstring backpack.
However, hiking safety dictates that you really should always go out on the trail assuming you might spend the night. If you break your ankle or get lost, you could certainly be out there longer than a morning, and even in hot desert environments, overnights can be freezing, so it's always a good idea to carry extra clothing, as well as navigational tools and enough water. Remember that going out unprepared doesn't just endanger you, it can put mountain rescue teams in perilous situations too.
Here's a sample of what you should probably bring on just about every hike to be safe:
As you can see, the gear starts to pile up fast and your old school bag might just fit all of that, but it's not going to be very comfortable to carry.
What size daypack do you need?
As you may have noticed, daypacks run in quite a range of capacities, from 18 liters all the way up to 32 or even 35 liters – so what size do you need?
For simple day hikes where you're only carrying the basics, anything from 18 to 25 liters will probably provide you with enough room to carry everything, though on the smaller end it will definitely get tight. That's also a good size for daily use around town and as your carry-on bag for travel, and will fit your laptop, so it's good to own at least one daypack this size.
If you want to carry extra gear, like a bulky camera, an emergency shelter or several water bottles, then you might want to look at the 25 to 30 liter range so that you're not cramming too much stuff into a smaller bag and compromising the zippers.
Bigger daypacks, that run from about 25 to 25 liters, like the Jack Wolfskin ACS Crosstrail 32, are really ideal if you're fastpacking, or going on a hut trip (or bothy camping in Scotland) where you are spending the night, but there will be a bed and maybe a kitchen available so you're carrying less camping gear.
There are women's-specific fits of good day packs that take into account things like torso length and should have the chest strap better-placed for breasts. Finally, if your adventures are going to involve quite a bit of running, look into backpacks for running that are specially designed not to bounce around when you pick up speed.
All the latest inspiration, tips and guides to help you plan your next Advnture!
Julia Clarke is a staff writer for Advnture.com and the author of the book Restorative Yoga for Beginners. She loves to explore mountains on foot, bike, skis and belay and then recover on the the yoga mat. Julia graduated with a degree in journalism in 2004 and spent eight years working as a radio presenter in Kansas City, Vermont, Boston and New York City before discovering the joys of the Rocky Mountains. She then detoured west to Colorado and enjoyed 11 years teaching yoga in Vail before returning to her hometown of Glasgow, Scotland in 2020 to focus on family and writing.