When should you not go hiking?
Being an experienced and skilled hiker doesn't just mean knowing how to take a bearing or use crampons – it means keeping yourself and others as safe as possible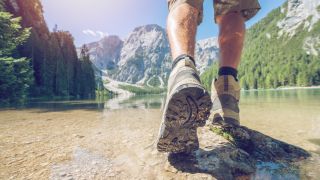 (Image credit: Getty)
You've heard it before: there's no such thing as bad weather, only the wrong clothes. But is it really true that every day is a great day for hiking? We love hiking in all seasons and a lot of different weather conditions, but aren't there times when you'd be wiser to meet a friend for coffee, take a yoga class or even lace up your trail running shoes and hit a low level trail instead?
This is a question I've been pondering lately, particularly with warmer weather bringing more unprepared people onto the trails. I like to think that we can all hike and enjoy the outdoors in any weather so long as we're being sensible, carrying a waterproof jacket and rain paints, drinking plenty of drinking water and have decent navigation skills (plus a compass and map of the area).
But if I'm being honest, my love of hiking has got me into a few sticky situations (on top of a Colorado 14er in a snowstorm, on a Yorkshire peak in a gale) and each time, I had to admit that the smarter thing to do would have been to leave my hiking boots where they were and go to the pub instead.
Being an experienced and skilled hiker doesn't just mean knowing how to take a bearing or owning crampons – it means keeping yourself and others (including mountain rescue) as safe as possible. So when should you not go hiking? Read on for seven scenarios when the best thing to do is stay off the trail.
1. In extreme heat
Even though there's lots of clothing designed to keep you safe from extreme cold, high winds and heavy rain, there isn't much that can actually cool you down beyond wearing a hiking top made from moisture-wicking material. Sadly, hikers succumb to heat related illnesses all the time, and it often takes place on a fairly innocuous trail, as with the family of three who perished near Hites Cove just outside of Yosemite National Park in 2021. Heatstroke and dehydration are very real threats to hikers when the temperatures start to soar, and during a heat wave it may be best to skip the hike altogether.
If it's going to be extra warm out, hike early (meaning leave at dawn and be back at the trailhead by late morning), choose a hike that has shade and a natural water source and carry a water bottle or hydration bladder and a means of purifying water.
2. When lightning is forecast
Though rain, sleet and snow might not make for the most carefree hiking experience, it's possible to hike in wet weather and be safe. However, any chance of lightning should be avoided at all cost. Lightning strikes on humans are definitely rare occurrences, but I can still recall back in 2015 when a whopping 16 people were struck by lightning up on Mount Bierstadt.
Lightning strikes are especially common at high altitude in the Rocky Mountains, and something I grew to expect up above treeline on any summer's day in Colorado. If lightning strikes, the last place you want to be is standing on an exposed slope, so avoid getting up high or walking on exposed trails if there's any lightning forecast, and make sure you know how to avoid getting struck by lightning if you're already up high and hear a rumble in the distance.
3. In high winds
If you're reading this from Alaska, Wyoming, Montana or Scotland, you might not take it seriously. After all, how can you avoid windy hikes when it's almost always windy? In a nutshell, you can't, but you should know that at 60mph, hiking in the wind becomes downright dangerous and you run the risk of being blown over and injured, being struck by flying debris, or becoming exhausted. Use a reliable weather app and learn how to read a mountain weather forecast so that you can discern the wind speeds up high and avoid hiking in a gale.
4. In a blizzard
Winter hiking can be magical, and you can hike when it's snowing, but sticking to light snow and familiar, low lying trails is advised. If there are whiteout conditions present or on the way, your risk of getting lost, stranded or developing hypothermia is much higher. Sit out those snowstorms, and go skiing or build a snowman instead.
5. During flood risk
Hiking in the rain is usually fine, but can be dangerous if it's heavy and you're anywhere that's at high risk of landslides or flash flooding. Avoid hiking in desert conditions when there's a possibility of rain, since the dry ground won't easily absorb water and flash floods can occur quickly. Stay away from canyoneering in slot canyons, and hiking in valleys with river crossings during spring runoff when additional rain can make such trails extremely dangerous to cross.
6. In smoky conditions
Sadly, wildfires have become a season rather than isolated events, and in some places, wildfire smoke can make it unhealthy for you to hike, even if you're not in danger from the fire itself. According to the EPA's guidelines on inhaling wildfire smoke, doing so can result in issues ranging from relatively minor irritation such as burning eyes and a runny nose to serious health conditions like aggravated chronic heart and lung diseases and premature death.
Certain sectors of the population are more at risk, such as those with chronic heart and lung conditions, children and the elderly, diabetics and pregnant women, but even if you're not in those categories, exercising outdoors and breathing heavily will increase the amount of smoke you inhale and increase your risk.
7. During trail closures
Moving on from weather-related events, when there are trail closures, you should turn back or at least find another trail. Trail closures aren't always related to your safety, though if there's a sign at the trailhead advising of a mountain lion up ahead with fresh kill, they might be. Trail closures are often due to wildlife migration or nesting and your cooperation ensures the continued health of the ecosystems that we all love to hike in and enjoy.
All the latest inspiration, tips and guides to help you plan your next Advnture!
Julia Clarke is a staff writer for Advnture.com and the author of the book Restorative Yoga for Beginners. She loves to explore mountains on foot, bike, skis and belay and then recover on the the yoga mat. Julia graduated with a degree in journalism in 2004 and spent eight years working as a radio presenter in Kansas City, Vermont, Boston and New York City before discovering the joys of the Rocky Mountains. She then detoured west to Colorado and enjoyed 11 years teaching yoga in Vail before returning to her hometown of Glasgow, Scotland in 2020 to focus on family and writing.