How to actually enjoy camping when you (think you) hate camping
10 tips for people who hate camping to learn to love living, eating and sleeping outdoors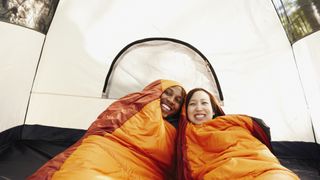 (Image credit: Nick Onken)
The days are getting longer, overnights are no longer falling below freezing and all around you friends, family and co-workers are excitedly anticipating the beginning of camping season. You, meanwhile, are dreading it. Not showering for days, the pungent smell of campfire smoke in everything you touch, sweltering overnight in your too-warm sleeping bag, the tedium of no WiFi connection – why does anyone do this?
Well, because it's about the most fun you can have. For a few days, you don't have to be constantly dousing yourself in artificially fragranced soap and shampoo, you can commune with great friends around the campfire, something that bound our ancestors together before the dawn of electricity. Sleeping outdoors with just a thin layer of nylon between you and nature resets your Circadian Rhythm and restores hormonal balance while the break from all that screen time does wonders for your mind and nervous system. All of that and you don't have to pay to check into a fancy rehab center in Beverly Hills!
Not convinced? You might be doing it wrong. Follow our tips for how to actually enjoy camping and make this your best summer yet.
1. Try car camping
First, if your camping experiences thus far have involved hiking in for miles carrying everything you need for one night on your back and sharing a single pot with someone else for all your meals, backpacking may not be for you (or you may need better backpacking gear).
Car camping is a much better segue into the world of sleeping outdoors. It doesn't mean you sleep in your car; rather, you camp somewhere that you can drive to, and this means that you can bring a lot more of your home comforts for camp. Remember that the more people you carpool with, the less room you have for items like camping chairs and cots, but if you can keep your passengers to a minimum, you'll be a lot more comfortable when you get to camp.
2. Pick the perfect spot
Another reason your previous camping experiences may have been less than gratifying is your campsite. Perhaps you went to Yosemite National Park looking for some peace and quiet and found yourself sharing a campsite in the valley with hundreds of others. Or maybe you went more rustic and found that the primitive toilets and lack of running water was a little too much reality to handle.
The truth is, there is no perfect spot for camping, only the best one for you. National Parks and developed campgrounds are likely to be busy, especially during the summer months and on weekends, whereas primitive campgrounds, the backcountry and National Forests will be quieter, so figure out if you want to be around other people or secluded. Know if you want amenities like toilets and showers and do your research ahead of time to ensure they'll be available. And finally, a beautiful campsite can make a big difference to your happiness levels – look for special natural features such as mountain views, alpine lakes or beaches rather than a farmer's field.
3. Bring the best tent
Your tent is your home for the night, weekend or week, so if you've been lugging along the same old A-frame you've been struggling with since 1992, it's time for an upgrade. If you don't know, modern tents have come a long way and simple two-person tents these days come in all different shapes and are all much easier to erect and lightweight to transport.
If you're buying or borrowing a newer tent, the chances are extremely high that it will be technical enough to suit your needs, assuming you're not winter camping in Alaska, but there are two things to look out for. First, it should be easy to pitch and you should know how to erect it, so practice at home in your living room and make sure you're familiar with the setup to avoid first night tantrums.
Second, make sure you have enough space. If you're sharing with someone else, consider a three-person tent and if you're sleeping alone, it's worthwhile looking into a lightweight two-person tent so there's plenty of room for lounging and all your stuff. We love the MSR Hubba Hubba NX for this reason, as it's as light as a one-person tent but built for two.
4. Rig the perfect sleep system
If camping for you is synonymous with long, uncomfortable nights waiting for morning to come before dropping off right before dawn and waking up late in a blazing hot tent with your sleeping bag stuck to your skin two hours later, you need to look at your sleep system. Believe it or not, you can get a good night's sleep at camp, you just need the right gear.
First, make sure your sleeping bag has the right temperature rating for where and when you'll be camping. Check the overnight lows and make sure your bag is rated to cover you so you don't get too cold, but also don't splash out on a highly technical bag built for -15 temps if you're going to be summer camping in Missouri. For warmer temperatures, we like the Therm-A-Rest Space Cowboy 45 or for a more versatile option, consider a camping quilt that's rated for lower temperatures, such as the Sea to Summit Ember II which is brilliant for backpacking and can be a blanket in warmer temperatures. You'll also want to consider the different sleeping bag shapes to ensure you have right shape for your sleeping style (mummy style bags aren't great for side sleepers).
Next up, invest in a great sleeping pad that's nice and thick, or consider options like air mattresses and camping cots which feel more like your bed at home. Plenty of cushion between you and the earth is really the key to a good night's sleep. Finally, top it all off with a camping pillow, or a regular pillow, for comfort.
5. Make your campsite cozy
This one is true for just about anywhere you're going to spend time in life – if you make your campsite cozy and inviting, you'll want to spend time there. You can't exactly scatter throw cushions around, but spread a few camping lanterns here and there to give the place a warm glow, string up fairy lights if you're going to be there a few days, burn some incense and generally get your gear organized so you're home away from home has great feng shui.
6. Set up your camp kitchen like a pro
One of the best-known ways to make camping fun is to make meals an event. After all, if you're already not feeling it and you end the day eating cold hot dogs out of a tin, you're going to love it even less. Invest in a camping coffee maker and plan great camping meals like eggs and pancakes for breakfast and tasty Dutch oven meals for dinner. Bring a camping table and tarp or pop up canopy and set up a great camp kitchen just like you have at home – make sure you know where everything is so that cooking is easy, and have a plan for dishes so that everyone takes care of their own in good time.
7. Dress for function, not fashion
Look, we know you like looking cute for the 'Gram, but showing up to camp inappropriately dressed for the elements really isn't a great look. Outdoor gear has also come a long way, so if you're serious about spending time outside, it's best to forgo the jean-shorts-and-flannel look for some decent hiking layers that will keep you warm when the sun drops and dry quickly if you hit some precipitation. Skip the cotton altogether and go for synthetics, merino wool and bamboo.
Get yourself a base layer and thermal underwear for chilly nights and sleeping and down jacket to wear over the top. For day time activities, find some quick drying hiking pants or shorts that you can move and breathe in. We promise, nothing looks better than someone who isn't turning blue at the lips because they're trying to camp in a crop top. Learn more in our article on what to wear to camp.
8. Plan activities
Find hanging around at camp all day mind-numbingly dull? Find stuff to do! The outdoors provides unlimited entertainment if you know where to look. Go hiking or rock climbing or get out on the water if you're by a lake or at the beach. Bring some binoculars and try bird watching or a camera to sharpen your wildlife photography skills. If you're camping with young kids, plan a scavenger hunt.
9. Bring entertainment
At home, entertainment for you might mean Netflix and scrolling, but we recommend you ditch the screens altogether for camping (Wifi is highly unlikely to be in supply anyway). If the thought of staring at the fire or conversation makes you grind your teeth, bring along a book or a guitar and some card games to while away the hours. Chances are, you'll end up having so much fun you won't use them, but at least you'll feel like you have a life raft to escape the din of your own inner monologue.
10. Embrace the wild
Finally, don't work too hard to make your campsite exactly like your life at home, otherwise what's the point? Try to see the upside of not having showers (it's good for your skin to skip all that soap), the beauty of being stirred awake by the call of the birds bright and early (it's great for your mental health) and use nature as a tool to awaken your senses by getting your feet in the dirt and smelling the wildflowers.
All the latest inspiration, tips and guides to help you plan your next Advnture!
Julia Clarke is a staff writer for Advnture.com and the author of the book Restorative Yoga for Beginners. She loves to explore mountains on foot, bike, skis and belay and then recover on the the yoga mat. Julia graduated with a degree in journalism in 2004 and spent eight years working as a radio presenter in Kansas City, Vermont, Boston and New York City before discovering the joys of the Rocky Mountains. She then detoured west to Colorado and enjoyed 11 years teaching yoga in Vail before returning to her hometown of Glasgow, Scotland in 2020 to focus on family and writing.