I love fall camping – but I'd never set off without these 14 pieces of gear
Camping in autumn means longer nights, crisper temperatures and active wildlife – here's everything you need to stay safe and warm when you're sleeping in the wild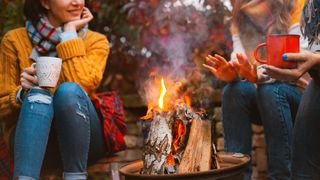 (Image credit: Shangarey)
Summer has officially left the building, but I'm not mourning the loss of those long days and warm temperatures. I'm just changing gears.
That's right, though I love pitching my MSR Hubba Hubba NX tent at the beach, wearing nothing but hiking sandals, wild swimming without a wetsuit and evenings that stretch on forever, I honestly get equally excited about fall camping. The longer nights and lower temperatures mean I sleep better and the crisp air is perfect for bundling up, pulling on my hiking boots and hitting the trail in the morning.
That said, fall camping definitely isn't as simple as popping up your tent – you'll need more and different gear in order to fend off the cold and have a great time. I love fall camping – but I'd never set off without these 14 pieces of gear:
1. Camping chair
In the summer months, you might be happy enough to cop a squat on a rock or a blanket spread out on the ground, but these days the ground is a lot colder than it was back in July. Get your bum up off the ground with a camping chair like the comfy Coleman Deck Chair and not only will you be warmer when you're hanging out, you'll have somewhere to put your cup.
2. Insulated camping mug
When the temperatures are on the crisp side, you're going to want to bring along an insulated camping mug to keep your beverages hot, whether it's morning coffee or a spiked hot chocolate round the campfire at night. Now's a good time to forget the enamel mug and grab a double-wall vacuum insulated drink tote like my Yeti Rambler 10oz Tumbler which fits in any cup holder. Wondering what to put in it? Check out our favorite hot drinks for camping recipes.
3. Coffee maker
Speaking of hot drinks, now is not the time to go minimalist. When you wake up to a light frost on the ground, there's nothing better than the smell of fresh coffee to help you feel warm and cozy. I've tested a lot of great camping coffee makers, and my absolute favorite is the AeroPress GO which delivers consistently great coffee, is super easy to use and light to carry.
4. Fire starter
Fingers crossed, there are no longer any fire bans where you're going camping and you can build a roaring campfire to gather round when the sun drops. When overnight lows falling, you definitely don't want to rock up to your campsite with a damp box of matches or a lighter you've had packed away in your camping bin for the last 10 years. Matches, lighter, flint and steel, it doesn't matter what fire starter you choose just make sure you check it works before you go.
5. Double burner stove
Now I love a good minimalist backpacking excursion with a camping stove that fits in the palm of my hand as much as the next camper, but when it gets chilly, I like nothing more than a hearty meal. This year, I got my hands on a Vango Combi IR Grill Compact and it's totally changed the way I car camp. I can have two pots or pans on the go at the same time, plus some toast or bacon in the grill underneath – it's nearly like cooking at home and it all packs up like a briefcase when it's time to go home. Check out our list of the best double-burner camping stoves and bid those freeze-dried camping meals goodbye till next summer.
6. Camping lantern
The nights come in earlier in the fall and the sun rises later, so you'll be spending more hours in the dark. If the skies are clear and the moon near full, it can be great to let your eyes adjust and enjoy the night sky, but for safety and ambience, it's a good idea to bring along a camping lantern or two. My Pure Woodland Glow waterproof outdoor speaker with LED lamp can also play music or the radio, if that's your thing, just keep the noise to a minimum.
7. Headlamp
Your lanterns can be stationary or come with you as you move around, but don't forget to bring a headlamp or two and extra batteries for those long nights. Any time you need to go back to the car to pack things away or for a midnight toilet trip, you're going to want to be able to see where you're going to avoid any trips or spills. I have several headlamps, but I love the comfort and battery life of my Petzl Swift in the dark. Remember you can use the red light function to avoid disturbing your camping buddies and help your eyes adjust if you're doing some stargazing.
8. 4-season sleeping bag
Even if it's not especially cold in your area yet during the day, less daylight means colder nights and at altitude, it may already be getting below freezing. For safety, you'll want a 4-season sleeping bag that's got a comfort rating of at least 20°F. My snuggest bag for fall expeditions is my Sierra Designs Night Cap Sleeping Bag, which does away with the annoying zip and lets me snuggle up in a surprisingly versatile cocoon all night long.
9. Emergency blanket
You might think an emergency blanket, or space blanket as they're sometimes known, should only get broken out if you get stranded on a windy hillside, but this affordable piece of kit can be surprisingly versatile. If your tent isn't quite as warm as you'd hoped, you can winterize it by lining the floor and walls with emergency blankets, foil facing in towards you. I always carry a couple in my first aid kit in case I need them.
10. Camping blanket
It's true that you can wrap your sleeping bag around you when you're sitting around the campfire to keep warm, but sleeping bags are an expensive and valuable piece of kit, so I prefer to keep mine in my tent and far away from embers and beer spills. A camping blanket can add tons of extra warmth when you're outside your tent, and of course provide you with an extra layer of insulation at night. I absolutely love my lightweight Rumpl NanoLoft Puffy Blanket which comes with its own stuff sack for travel.
11. Wellies
When you're pitching up in the wild for a few days, you need a pair of camp shoes and while the summer months mean you're probably happy enough with a pair of sandals (I lived in my Keen Newport H2s this summer), if you're expecting muddy conditions this fall, why not bring a pair of wellington boots? My Muck Boot Unisex Calder Short Boots are easy to pull on and off when I'm getting in and out of my tent but have really good traction for treacherous conditions. Plus there's lots of room in them for an extra pair of cozy hiking socks for warmth.
12. Down jacket
The summer months might have meant you could get away with camping in a fleece jacket, but I truly can't recommend enough that you get a decent insulated jacket for fall when those mornings can be seriously crisp. Whether it's a down jacket or a synthetic puffer, you're going to want that extra warmth and make sure you get one with a hood for added coziness. I've been keeping snug in my Rab Infinity Microlight jacket for the past couple of years and it even kept me comfortable during an especially bitter spring hiking retreat in Yosemite National Park last year.
13. Binoculars
The mosquitos will be gone and you can ditch the insect repellent, but otherwise, fall wildlife viewing can be extra special, between busy beavers gathering food, birds migrating south and bighorn sheep rutting. If you're going to be out in the backcountry, bring a pair of binoculars so you can watch wildlife safely, from a distance. For packability purposes, I'm loving my Whitby Gear 8x42 Monocular which lets me follow nature on the move.
14. Marshmallows
Okay, I know this isn't technically a piece of gear, but it's still worth noting. I lived in America for 19 years and grew to really love the tradition of S'mores, especially when the cooler temperatures arrive. Pack your marshmallows, chocolate and graham crackers, sharpen a stick using your best camping knife, and get to roasting those marshmallows. Haven't a clue how to put all these ingredients together? Check out our guide on to how to make S'mores.
All the latest inspiration, tips and guides to help you plan your next Advnture!
Julia Clarke is a staff writer for Advnture.com and the author of the book Restorative Yoga for Beginners. She loves to explore mountains on foot, bike, skis and belay and then recover on the the yoga mat. Julia graduated with a degree in journalism in 2004 and spent eight years working as a radio presenter in Kansas City, Vermont, Boston and New York City before discovering the joys of the Rocky Mountains. She then detoured west to Colorado and enjoyed 11 years teaching yoga in Vail before returning to her hometown of Glasgow, Scotland in 2020 to focus on family and writing.