Hiking terms: do you know your blazes from your bushwhacking?
Our guide to common hiking terms walks through every piece of jargon you need to know from the 10 essentials to the Yosemite Decimal System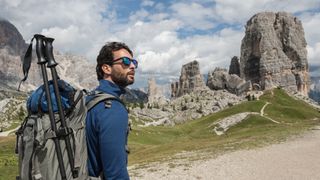 (Image credit: Getty)
Hiking might just be walking in the countryside, but there's a whole slew of jargon and short-term that goes along with it. Once you've got yourself a pair of the best hiking boots and start researching new hiking trails, you might feel a bit bewildered by all the strange terminology that pops up on route finding apps and in hiking guides with no explanation. Well, scratch your head no longer – our guide to hiking terminology walks through everything you need to know from the 10 essentials to the Yosemite Decimal System.
10 essentials: The 10 Essentials are a list of survival items such as a headlamp, first aid kit and emergency shelter that are recommended for safe travel in the backcountry which first appeared in print in the third edition of Mountaineering: The Freedom of the Hills.
14er: The common US term for any mountain over 14,000ft tall. A general rule is that a summit must have at least 300 feet of elevation above the lowest contour line encircling it to qualify, but even this rule varies from state to state. The vast majority of 14ers are in Colorado which has 53, while Alaska comes in second with 29, including America's highest peak, Denali. California is home to 12 14ers while Washington state has just two.
Alpinism: The activity of climbing summits in high altitude mountain environments. Alpinism uses a variety of techniques such as rock climbing, ice climbing and glacier hiking to ascend and descend mountains and therefore a great degree of skill and technical know-how is involved. Often used interchangeably with mountaineering but considered more minimalist and involves a single-push approach.
AT: Abbreviation for Appalachian Trail, a famous hiking trail stretching for 2,200 miles from Springer Mountain in northern Georgia to the summit of Mount Katahdin in Maine.
Backcountry: A remote, undeveloped rural area. You are often in the backcountry when you are hiking, unless you're in an area like a State Park or National Park, which are considered frontcountry and may have facilities such as toilets, shops and restaurants.
Base camp: A camp from which mountaineering expeditions set out from.
Blaze: Trail markers in the form of a rectangle of paint on a tree, commonly used in the northeast and on the AT. Multiple, converging routes will be marked by different colored blazers.
Boulder field: Otherwise known as a block field, a boulder field is a large expanse of land covered by boulders, or large rocks. Usually found at high elevations in the northern hemisphere, formed by the freeze-thaw process.
Bushwhacking: A term to describe hiking off-trail. This might involve hacking your way through a jungle with a camping axe, but can also just mean walking through low scrub.
Cairn: Man-made rock piles used for navigation. The word "cairn" is a Scottish Gaelic word literally meaning "heap of stones" but rock cairns are found all over the globe.
CDT: Abbreviation for Continental Divide Trail, a rugged hiking trail stretching for 2,700 miles from the US border with Alberta, Canada in the north all the way down to the southern border with Chihuahua, Mexico through the Rocky Mountains.
Col: Another word for a saddle, a col is the lowest point between two peaks. Make sure you're carrying a compass when you arrive at a col so you can be sure to climb the correct peak.
Contour lines: Contour lines are squiggly lines on maps, with numbers next to them. The lines represent the shape of the land, and the numbers tell you the height each line is above sea level. The closer together the contour lines are, the steeper the slope. Learn more about how to read a map.
Crest: Can be used to describe the highest part of a mountain, AKA the summit, but often used to describe the highest ridge line of a mountain range.
Elevation: The highest point of a mountain, or other hiking destination such as a lake, in feet or meters, in relation to sea level.
Elevation gain: The elevation in feet or meters gained in a hiking route, from beginning to end.
Exposure: Refers to the risk of injury on an area of a hike. A ridge with steep terrain has high exposure, while a rolling hill is considered low exposure.
False summit: A high point on a mountain that appears from below to be the summit, but turns out not to be upon reaching it, causing disappointment and mental fatigue in hikers.
Fire road: Dirt tracks designed to provide rangers and firefighters with access to the backcountry, these often make up parts of hiking trails.
FKT: An abbreviation for the term Fastest Known Time, which is the speed record for a hiking (or running) route.
High altitude: Areas that are 8,000ft (2,400m) or higher above sea level, where oxygen particles are more sparse and acclimation is advised before hiking as altitude sickness may be experienced. These include popular hiking areas like Colorado 14ers.
Hillwalking: Preferred UK term for hiking.
Leave no trace: A shared principle in hiking and other outdoor pursuits of leaving the wild exactly as you found it. Learn more about how to leave no trace.
Mountaineering: A sport involving ascending the highest point of mountains for pleasure. Mountaineering incorporates activities such as rock climbing, ice climbing and skiing – basically whatever the terrain requires – in order to reach the summit. By nature, mountaineering tends to be adventurous and involve some risk and requires technical expertise.
Munro: The name for Scotland's mountains with a summit of more than 3000ft. There are 282 munros in this small country.
Out-and-back: A term to describe hiking trails where you return the same way that you came, rather than a circular loop.
PCT: Abbreviation for Pacific Crest Trail, a 2,650 mile hiking and equestrian trail that roughly follows the Cascade and Sierra Nevada mountains near the west coast from Mexico to Canada and takes hikers through California, Oregon and Washington.
Peak: Another word for the summit, or high point, of a mountain, also commonly used to describe the highest mountains in a given area.
Peak bagging: A term used to describe people who aim to summit all of the highest mountains or peaks in a given area, such as all of the Colorado 14ers or Scottish Munros. A person who attempts this feat is known as a peak bagger.
Post-holing: Plunging thigh-deep into deep snow when hiking in winter. Very irksome and can be countered by wearing snowshoes.
Rambling: A common UK term for a leisurely stroll in the countryside.
RT: Abbreviation for roundtrip, used to measure the distance of an entire hike, from trailhead to summit and back. A mountain hike that takes three miles to reach the summit is a six-mile RT hike.
Saddle: Another word for a col, a saddle is the lowest point between two peaks. Make sure you're carrying a compass when you arrive at a saddle so you climb the correct peak.
Scrambling: Using your hands and feet to climb a hill that is usually steep and rocky, scrambling doesn't require technical climbing gear.
Scree: Loose rock debris that has accumulated at the bottom of a slope due to rockfall. Usually used interchangeably with talus, but often referring to smaller pieces of rock debris. Don't go scree running.
Section hiking: Hiking a long distance trail in sections over a longer period of time, rather than thru-hiking. Section hiking can involve segments of any distance.
Shared use trail: A trail which can be used by other users than hikers, such as bikers, equestrians and even motorized recreational vehicles.
Single-track trail: A narrow trail that is only wide enough for one user, these are usually mountain biking trails and deeply rutted. Care should be taken when hiking on these to avoid oncoming bikers.
Summit: The highest point of a hill or mountain, often the destination of a hike for its fine views.
Switchbacks: The zig-zag construction of a hiking trail which reduces the intensity of a climb. Do not cut switchbacks to save time as this damages the fragile exocsystems surrounding the trail.
Talus: Loose rock debris that has accumulated at the bottom of a slope due to rockfall. Usually used interchangeably with scree, but often referring to bigger rock debris.
Thru-hiking: Hiking an entire long distance trail in one journey. Those who complete trails like the AT, CDT or PCT in one go are known as thru-hikers.
Topo: Shorthand for topographic map, a map using large-scale detail and relative representation of relief features using contour lines, so example maps made by the US Geological Society and Ordnance Survey in the UK.
Trailhead: Refers to the beginning of a trail used for hiking. This may be marked with trail signs and other information and may have trailhead facilities such as parking, picnic tables and toilets.
Treeline: Also known as timberline elevation, treeline is the elevation at which trees no longer grow. The height of treeline varies enormously around the world, especially in areas more than 30 degrees north of the equator and in excess of 20 degrees south of the equator, known as areas of high latitudes.
Triple crown: A feat which borrows its name from the Thoroughbred racing world, recognized by the American Long Distance Hiking Association-West, for those who have completed America's three most famous long trails: the AT, CDT and PCT, making up the Triple Crown of Hiking.
Wainwrights: A list of peaks – better known locally as fells – that were outlined in British walker and author Alfred Wainwright's seven-volume Pictorial Guide to the Lakeland Fells which were published between 1955 and 1966. The Wainwrights don't necessarily have distinguishing characteristics such as all being above a certain height, however they are all mountains and they are all within Lake District National Park. All but one of the Wainwrights (Castle Crag) are over 1,000ft tall.
Yosemite Decimal System: The hiking trail difficulty system used in the US and Canada and devised by the Sierra Club to rate the difficulty level of walks, hikes and climbs. Class 1 hikes involve straightforward walking while Class 4 hikes, the most difficult, require technical climbing gear.
All the latest inspiration, tips and guides to help you plan your next Advnture!
Julia Clarke is a staff writer for Advnture.com and the author of the book Restorative Yoga for Beginners. She loves to explore mountains on foot, bike, skis and belay and then recover on the the yoga mat. Julia graduated with a degree in journalism in 2004 and spent eight years working as a radio presenter in Kansas City, Vermont, Boston and New York City before discovering the joys of the Rocky Mountains. She then detoured west to Colorado and enjoyed 11 years teaching yoga in Vail before returning to her hometown of Glasgow, Scotland in 2020 to focus on family and writing.