20 common hiking mistakes and how to avoid them
Hiking should be a learning process and you get better at it the more of it you do, but there are certain mistakes that you want to avoid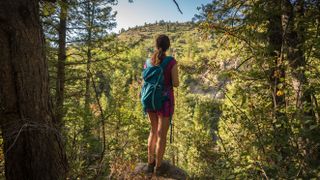 (Image credit: Sant Vallo / 500px)
There are hiking mistakes you can laugh at and learn from, like shoving a banana in the laptop sleeve of your backpack, and then there are those that can cost you life and limb. Though like anything, hiking should be a learning process and you get better at it the more of it you do, there are certain errors that you want to avoid at all costs. Fortunately for you, I've already made a lot of them in my years of hiking, so before you hit the trail, read on for 20 common hiking mistakes and how to avoid them.
1. Not researching your trail
My 70-year-old mother and I went on a hike a few years ago that she had found in a hiking guide. From the rudimentary map, it looked to her like the circular route went around a mountain without adding too much elevation. I stupidly didn't think to check her research, and as we discovered the loop went to the top of a mountain, across a saddle to another peak, then down a steep descent to the trailhead. We made it, and it's since become one of my favorite hikes, but it was a lot more than we bargained for and could have put us in a bad situation if the weather had turned.
When choosing a hiking trail, always make sure you know the elevation gain and terrain as well as the distance.
2. Not sizing up
Choosing a pair of hiking boots comes down to more than just great grip and ankle support. For years, I couldn't understand why all hiking boots gave me blisters, until I realized that I needed to go up a half size to allow my feet to swell.
Make sure your hiking boots can lace snugly around your ankle, but have plenty of room in the toe box to wiggle and spread your toes.
3. Ignoring hot spots
Avalanches, wildfires and mountain lion attacks do happen to hikers, but they're super rare. The biggest threat to a hiker's health is the small-but-insidious blister. Blisters aren't usually life-threatening, but they can definitely ruin what was meant to be an amazing day.
As soon as you feel a hot spot on your foot, stop, remove your boots and either slather the area with vaseline or cover it with moleskine.
4. Overdressing
Getting cold on a hike is a source of dread for a lot of us, and of course hypothermia and frostbite are very real hiking hazards, but don't fall prey to overdressing. Even if you're dressed in sensible hiking layers, you'll still end up spending the first 20 minutes of your hike stopping to undress, and that's really the time you want to be warming up and finding your stride.
As a general rule of thumb, you should be a little chilly at the beginning of your hike, and have warm layers like a fleece jacket n your backpack.
5. Getting sweaty
Speaking of overdressing, lots of hikes can be hot and sweaty affairs, especially in the summer months. It's impossible to avoid a little sweat, especially where your body comes into contact with your backpack, but try to avoid getting drenched, especially on a mountain hike. The temperatures at the summit will be cooler, and you can quickly get chilled if you're soaked.
If you're wearing extra layers and starting to sweat, remove those layers straight away. Dress in a base layer made from a quick drying, moisture wicking fabric like merino wool or synthetic materials, and if you tend to sweat a lot, carry an extra base layer to change into at the summit.
6. Poor packing
Responsible hiking means carrying a lot of gear, such as a waterproof jacket, first aid kit and hiking gloves as well as your lunch and water bottle, but don't just junk everything in or every time you need anything you'll have to stop and rummage. On a windy day, this can mean you end up with your rain jacket clamped between your knees to keep it from blowing away while you desperately try to find your compass and lose a glove.
If you're going backpacking, you'll want to use our guide to how to pack a backpack to make sure your load is well balanced. For a day hike, use pockets to keep small items from getting lost, pack items that you don't often need (like your rain pants and first aid kit) towards the bottom, and items that you want easy access to such as your water bottle and sunglasses near the top.
7. Overpacking
Hiking already requires you to carry a lot of gear, so don't add to it by bringing things you don't need, like too much food, beers, books and folding chairs. A heavy pack can make hiking a lot more tiring and you might end up dumping items along the way, which flies in the face of Leave No Trace.
8. Overconfidence
Pride, as they say, comes before a fall, and in the case of hiking, that fall might be a very literal one down a steep slope if you overestimate your abilities and get tired. I'm sad to say I lost one of my yoga students to an overenthusiastic climb of Aspen's Maroon Bells a few years back, where he became cliffed out and fell to his death.
Hiking might "just" be walking, but it can also be really challenging. Don't get out of your depth by taking on too much too soon and approach a more difficult hike such as a 14er like you would any athletic endeavor – with training.
9. Not bringing enough water
Even though sprained ankles are a common hiking hazard, perhaps the most common is dehydration, which can quickly become dangerous.
In hot weather especially, understand how much water to carry for hiking and load up your bottles or hydration bladder even though it adds weight. If you're going on a long hike, research available water sources along the trail and carry a water filter or purification tablets to avoid tummy troubles.
10. Fixating on the summit
Otherwise known as not knowing when to turn back, getting fixated on reaching the summit is the downfall of many a hiker.
Yes, it feels like you've accomplished something and yes, the views are great from the top, but you absolutely need to leave gas in the tank to get back down, which can be really hard work if it's steep. Always set a time by which you know you have to turn back, even if you haven't reached the summit, so that you don't end up too tired to descend or hiking in the dark.
11. Not checking the forecast
Rule number one of hiking? Always check the forecast. Not just the night before, but the morning of.
It's easy to forget if you live in northern California where the sun always shines or in the UK, where you just assume it's going to rain at some point, but don't miss this important step. For the best predictions check two or three different reliable weather apps for the area where you'll be hiking and dress accordingly, or change your plans as needed.
12. Ignoring the actual weather
Have you ever gone on a hike where the forecast called for sunshine and a zero percent chance of rain, then seen dark storm clouds gathering on the horizon and thought to yourself, "well that can't be right, there's no rain in the forecast"?
This temporary delusion is born of over reliance on technology and Marty McFly wasn't the only one to note that not even weathermen can predict the weather. If your eyes tell you that a storm is brewing, believe them and scurry back to below treeline pronto.
13. Checking sunrise and sunset
Last summer, I was hiking a 20-mile stretch of the West Highland Way that skirts the banks of Loch Lomond. It was later in the summer but a gloriously warm day and I was constantly stopping to enjoy the views, swim in the loch and enjoy myself. I'd hiked the trail a couple of months previously, when the days were 17 hours long, but suddenly it occurred to me that nightfall was coming much earlier now, and I had stupidly forgotten my headlamp. I ended up running about seven miles of the trail to hurry things up, which certainly wasn't my plan, and got to my hotel just after dark.
Make sure you know when the sun is due to set, plan to be back at the trailhead long before then, and bring a headlamp and spare batteries just in case.
14. Not knowing when to ditch the poles
Last year, I encountered a fellow hiker with his arm in a sling on my way up Ben Vane, a Munro in the west of Scotland that's surprisingly steep and rocky. He'd been using his trekking poles on his descent, one had slipped on the granite and he'd kept holding on as he fell, wrenching his shoulder out of the socket.
I'm a big fan of using trekking poles generally – they allow me to use my arms for the climbs and save my knees on the downhill. But I've also found it's easy to over-rely on them, or to be too tired to bother packing them away when what you really need to do is use your hands and scramble. Take those few extra seconds to put them in your backpack and free your hands when you need them. It could save you a nasty spill.
15. Splitting up
No hiker left behind is an important rule of hiking with friends. Yes, it can be disappointing if someone in your group is really slow or can't face the summit, but it's important to keep the group together. A tragic example of not following this protocol is the 2005 Colorado Cold Case of Michelle Vanek, who told her friends to go ahead without her to the summit of Mount of the Holy Cross, a 14er near Vail. They did so, and were unable to find her upon their descent. She has never been seen again.
Everyone in the group is responsible for everyone else's safety. If you start out together, stay together and if someone needs to turn back, either split into two smaller groups or you all go back.
16. Not paying attention
Over reliance on technology can also mean that we're not so inclined to pay attention to our surroundings. After all, your GPS watch or phone will just tell you how to get back, right? It's amazing how frequently hikers end up calling mountain rescue because they get lost, and this is especially common on the descent. You might think that going back the way you came is as simple as just following the trail, but it's surprising how different the trail can look when coming at it from a different angle (this is worse in boulder fields where everything looks the same) or even in a different light.
You can enjoy chatting with your friends while you're hiking, but do keep your eyes open for visual markers like streams, unusual trees and trail junctions where you could make a wrong turn.
17. Not planning to spend the night
You might have zero intention whatsoever of spending the night on a mountain, but that doesn't mean you won't. You could get lost, injured or exhausted and calling mountain rescue isn't like calling an Uber. It's very possible that you need to spend the night in the wild, so you should always set off with the assumption that you're going to and carry extra layers, an emergency blanket or shelter, fire starter and light source.
18. Foregoing the map
Somehow, paper maps have become uncool and map reading a lost art, but while GPS is a great technology, it doesn't really compare to carrying (and knowing how to use) a map of the area. Of course, natural landscapes can change while maps stay the same, but in conjunction with a compass, a map provides excellent detail, doesn't rely on batteries and is easy to carry in your backpack or a pocket.
19. Running out of steam
Hikes are meant to be physically demanding and many of us love that feeling of being absolutely spent. However, make sure that feeling doesn't come until you get back to the trailhead, or better yet, are posted up at the bar with a cold drink. If your gas tank is on empty when you're at the summit, or on the way up, you risk making poor decisions or turning an ankle on the way down.
Leave plenty of time, don't hike too quickly, take breaks to refuel and listen to your body for signs of depletion.
20. Taking shortcuts
The saying goes that there are no shortcuts in life, and this is true on the hiking trail too. Years ago, I decided to head down the backside of a mountain I'd climbed rather than return the longer way I came. The journey involved a lot more bushwhacking than I'd planned for, which meant exhausting hiking, a nasty fall and a slightly-too-close encounter with a bear. Don't end up like me or the Colorado hiker who spent 23 hours on the trail thanks to what he thought was a time-saving shortcut.
Stick to the trail, even those annoying switchbacks (they make you hike more efficiently after all) and you'll reduce your risk of getting lost while cutting down on soil erosion and disturbing wildlife.
All the latest inspiration, tips and guides to help you plan your next Advnture!
Julia Clarke is a staff writer for Advnture.com and the author of the book Restorative Yoga for Beginners. She loves to explore mountains on foot, bike, skis and belay and then recover on the the yoga mat. Julia graduated with a degree in journalism in 2004 and spent eight years working as a radio presenter in Kansas City, Vermont, Boston and New York City before discovering the joys of the Rocky Mountains. She then detoured west to Colorado and enjoyed 11 years teaching yoga in Vail before returning to her hometown of Glasgow, Scotland in 2020 to focus on family and writing.