National Park packing list: what to bring for your epic adventure
Our comprehensive guide covers everything your need for your next trip to a US National Park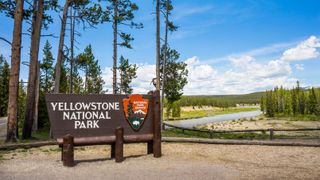 (Image credit: Getty)
In my years guiding yoga and hiking retreats in Yosemite National Park, I received a lot of similar messages from participants in the lead up to the trip about what amenities they should expect, what they needed to bring. Usually, these were from people who were visiting a National Park for the first time and the messages went something along the lines of, will there be showers? Will there be Wifi in case my kids need to get hold of me? Will I be able to charge my phone so I can take photos?
If you're preparing for your first National Park trip this year, or even your first since childhood, you might have these same questions – and you definitely shouldn't feel silly! National Parks are rather unique destinations in that they attract millions of visitors every year, but are by nature rural places with minimal infrastructure where you can be several hours drive from the nearest supermarket or urban center. Based on my time spent in America's National Parks, I've compiled this comprehensive guide to everything you need for an epic adventure in the wild. You won't need everything on the list for every trip, however, so it's a good idea to answer a couple of questions before you start packing.
Where are you going?
First of all, it's good to know that not all National Parks are created equally. If your first National Park was Yosemite, like a lot of Americans, you might have the impression that National Parks actually have quite a few modern conveniences. There, you could reasonably stay in a campground with drinking water and spotty cell service, swing by the village store for ice cream after hiking, and even pop into the Ahwahnee hotel for a cocktail. But head north to Gates of the Arctic in northern Alaska and you won't even find roads or trails – in fact, you can't even get there by car – never mind ice creams and flushing toilets.
In truth, most National Parks fall between these two extremes, with some facilities such as pristine hiking trails, campgrounds and visitor centers containing small shops, though some are more rustic and others better supplied. All of this is to say that the first thing you'll want to do is visit the website of the National Park you'll be visiting, and do some research to find out what types of amenities are available there. If you're camping in the park, check the amenities available at your campground or cabin while you're there. Make sure to check details such as whether there will be drinking water, if you are allowed to use a barbecue grill, and whether there are bear boxes for your food.
What will you be doing?
Next up, you want to have a good idea of what you'll be doing on your trip. If you're hiking, of course you'll want to bring all your hiking gear, which you'll see a guide to below. If you're camping, you'll need your sleep system and food. But if you're staying in a hotel and mostly just driving around and sightseeing, you can probably just dress for comfort and bring some extra layers for when you get out of the car to stretch your legs.
National Park packing list
Here's a comprehensive guide to everything you might need for you trip, depending on where you're going and what you're doing. Read the descriptions under each heading to help you figure out what you need to bring, and what you can safely leave behind.
Clothing and footwear: hiking layers and weather protection
Prepare for the elements with base layers and thermal underwear made with a moisture-wicking fabric such as merino wool, hiking pants or shorts and insulating layers like a fleece jacket or down jacket to wear over the top. Bring a waterproof jacket for rainy days and gushing waterfalls, and carry extra hiking socks, hats and gloves.
If you're going to be doing a lot of hiking, you'll want to bring hiking boots or hiking shoes that you've already broken in. Many National Parks have very well-maintained trails, but you should still anticipate slick or rocky terrain and have soles with good grip and uppers that are breathable. If you're camping in the warmer months, bring a pair of sandals or flip flops for hanging around at camp. If you plan to do any wild swimming, pack water shoes to keep you from slipping. There's no great reason to bring fashion shoes to a National Park, so leave those at home.
Hiking gear: day pack and trekking poles
If you're carrying everything to the park in a large hiking backpack, it can be easy to forget that you'll also need to pack a small daypack for your hikes that can carry your water, extra layers, snacks and sun protection. Trekking poles can be very useful for navigating steep and rough terrain on your hikes. Bring a folding set that can easily be packed away when you don't want to use them.
Water: containers and purification
Water that is safe for you to drink is called potable water, and some parks have good supplies of potable water at the campsites and visitors centers, but you'll still want to bring a water bottle or two for drinking and cooking, and perhaps a hydration bladder if you're hiking. Though you might be able to find a good clean spring in the backcountry, if there isn't a lot of potable water available, bring a purification system such as a water filter or tablets to keep you safe from nasty bugs and viruses.
Food and cooking: snacks, meals and stoves
Though some National Parks do have restaurants, cafeterias, hotels and shops where you can buy food, if you're camping in a National Park it's a good idea to bring your own food, and it's a lot cheaper too. Bring a latching camping cooler with food for your meals as well as hiking snacks to keep you going during the day, and save the trips to the store for that special treat. Check the stove/grill/campfire policy at the campground where you'll be starting to see what you can bring, and remember to bring fire starters such as a lighter or matches to light your camping stove.
Camping gear: sleep system and wildlife protection
Obviously, if you're camping you'll need to bring everything for sleeping: tent, sleeping pad and sleeping bag. Check your campground to see what the amenities are like, but in most you can expect a fire pit, picnic table and bear canisters if you're in bear country. For extra protection from rain or sun, consider bringing a tarp. Even primitive toilets should be stocked with toilet paper and trash bags, but it never hurts to bring a roll of toilet paper. Don't forget to bring trash bags for your own waste and use the bins provided.
First aid and survival: first aid kit and emergency repair
For any expedition into the wild, bring a proper hiking first aid kit, and check through it before you leave to make sure it's well-stocked and no items have expired. Bring a hiking whistle and some emergency hiking repair gear too, such as scissors, duct tape and a camping knife.
Sun and insect protection: sunscreen, sunglasses and bug spray
If you're lucky, the weather will be great, but that means you need to protect yourself from sunburn. Sunscreen might be available at the store, but it won't come cheap, so load up before you go and bring a sun hat and sunglasses. Also bring a good insect repellent with DEET, especially for spring and summer trips.
Navigation: map, compass and GPS
What you need for navigation depends a bit on what you'll be doing. At the entrance gates of the park, you should be able to get a basic map, but for hiking you probably want a more detailed topographic map of the area. While National Park hiking trails are often well-signed and have an obvious trail, it's important to bring a compass in case you get off track as well as any GPS watch or device you use.
Charging: phones and GPS
If you're traveling with a phone or a GPS watch that needs charged, don't expect to be able to just plug in at the wall like you do at the airport. Unless you're going to be driving everywhere and can charge on the go, pack a portable or solar charger and bring your charging leads.
Lighting: headlamp, flashlight and lanterns
Even the busiest campgrounds in the height of summer won't be lit, so bring your own illumination for navigation your way from the campfire to the toilets after dark. A headlamp is best for keeping your hands free, though a flashlight works well too. Consider a camping lantern or two scattered around your campsite as these can help illuminate your space without annoying other campers.
Shower amenities: towel, flip flops, toiletries
If you're a camper that cannot go a few days without taking a shower and you've managed to secure a site with showers, all you should expect is running water. You'll need to bring your own camping towel and toiletries. Because these showers are likely to be heavily trafficked, flips flops come highly recommended, and remember if you're camping in bear country that your toiletries are best unscented, and should be kept in the bear box when you're not using them. Finally, the showers are likely to be coin operated, so bring a roll of quarters!
Get a free 148-page ebook celebrating the world's greatest National Parks
All the latest inspiration, tips and guides to help you plan your next Advnture!
Julia Clarke is a staff writer for Advnture.com and the author of the book Restorative Yoga for Beginners. She loves to explore mountains on foot, bike, skis and belay and then recover on the the yoga mat. Julia graduated with a degree in journalism in 2004 and spent eight years working as a radio presenter in Kansas City, Vermont, Boston and New York City before discovering the joys of the Rocky Mountains. She then detoured west to Colorado and enjoyed 11 years teaching yoga in Vail before returning to her hometown of Glasgow, Scotland in 2020 to focus on family and writing.